Circuit of the Americas
Saturday, 17th November 2012 by Ian Brown
To the south-east of Austin, Texas, there is a brand new motor racing track called the Circuit of the Americas, being used this weekend for its inaugural event - the Formula One United States Grand Prix. While Street View shows the track at an early stage of construction, new Google satellite imagery of the circuit allows us to take a detailed look.
Developers have been racing1 to complete the track and surrounding facilities, including pit lane and the seating areas for 100,000+ spectators, hoping to draw fans away from the wildly popular NASCAR series for the first US Grand Prix in four years. The final layer of paving was only completed in late September, and the track officially opened 4 weeks ago with a ceremonial lap by Mario Andretti, the last US driver to win a Formula One championship.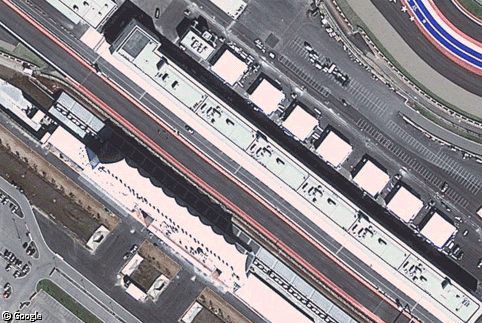 The 5.5km (3.4 mile) circuit cost around $350million to build and was conceived by German architect and designer Hermann Tilke. It has been praised by drivers in the lead-up to this weekend's race. The track takes advantage of the existing terrain, meaning it has moderate up and downhill sections - from the start/finish line it is uphill to the first corner. Unlike most other F1 courses, the track is run counter-clockwise, which presents additional challenges to mechanics, and drivers who can cover a lap in less than 1m 40s.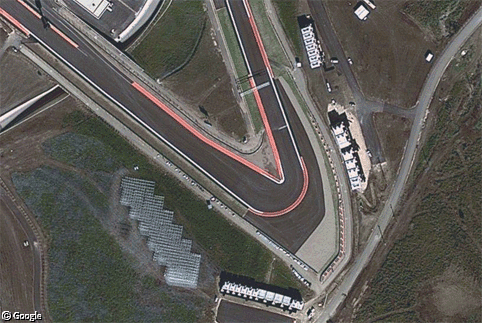 Sections of the course were heavily inspired by a number of classic European courses. After turns 1 and 2 there is a triple-curve section which closely resembles Silverstone's Maggots-Beckets-Chapel segment. Here we also see the first 'stars and stripes' themed design elements which line parts of the course.
The circuit continues through a number of smaller corners to the left-hand hairpin at turn 11, which leads into the longest straight where speeds will top 320kmh (200mph). Copying one of NASCAR's most popular fan initiatives, RV / camper drivers will be able to park right beside the track along the straight.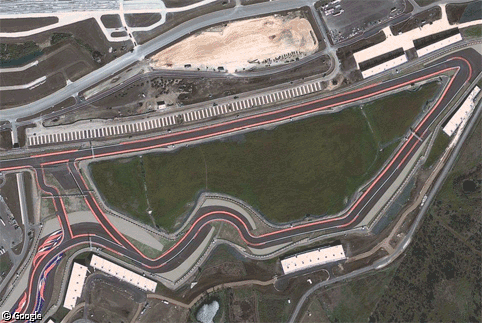 At the end of the straight, drivers will have to brake hard into a complex section of the course where turns 12 through 15 emulate Hockenheimring's Motodrom area, which allows fans to see cars for an extended period at slower speeds.
Turns 16, 17 and 18 resemble turn 8 from the circuit in Istanbul. They navigate around a 77m (251') observation tower and outdoor amphitheatre which will be used for concerts.
Left hand corners 19 and 20 bring us back to the home straight and the start/finish line.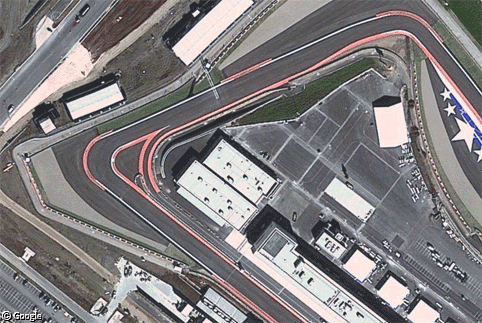 For more information about the Circuit of the Americas, visit the official site or Wikipedia. Youtube has a timelapse of its construction, and a preview of the track, while Red Bull give us an animated trip around the course.