Le Circuit de Reims-Gueux
Thursday, 21st April 2011 by Kyle Kusch
First used in 1926, le Circuit de Reims-Gueux was a French Formula One and sports car racing circuit built on the public roads between the villages of Gueux and Thillois. The circuit hosted its first French Grand Prix in 1932 and continued to hold the event until 1966. The track closed for good in 1972, but the roads are still in place, and many traces of the old circuit can still be found.
The track existed in two clockwise configurations (pre-1952 in blue and post-1952 in red), both around 5 miles (8 km) in length.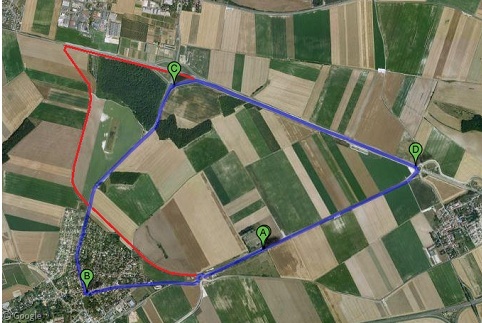 Cars reached death-defying speeds on the two long straights that formed the backbone of the track. The start-finish straight ran directly between the two villages, where the seating areas and pit stalls stand lonesome to this day. Even the old parking slots behind the pit can still be seen.
Every day, drivers commuting home from Reims recreate the feeling of blaring down the straight across the start-finish line past the paddock.
The main seating area, the Tribune Raymond Sommer, still fronts the roadway, with the old adverts painted on the wall fading away but still visible. At the far end of the bleachers, the old retaining walls remain, slowly being overtaken by weeds and grasses.
Further down the straight toward Thillois, the Pavillon André Lambert stands lonely in the picturesque countryside. These historic buildings attract photographers, vintage race car owners, and sightseers such as this man walking down the roadway to visit the pit stalls.
On the north side of the circuit, much of the original road has been expanded to expressway standard. The old track is still visible running parallel to the roadway. In fact, the retaining barrier can still be seen if you look closely.
The only truly abandoned section of track is the old Viragade de Muizon hairpin turn. The line it cut through this farmer's field can still plainly be seen. The Street View car even drove right up to the dead end, where the field is slowly reclaiming the track in the name of agriculture.
The hairpin was built in 1952 as part of the track realignment designed to bypass Gueux. Previous to that, cars had to race through the streets of the town, where trees and buildings had to be removed to widen the track. Drivers paying too much attention to the scenery were treated to charming village views such as this shot of the historic Gueux Church (and then probably immediately crashed into the roundabout).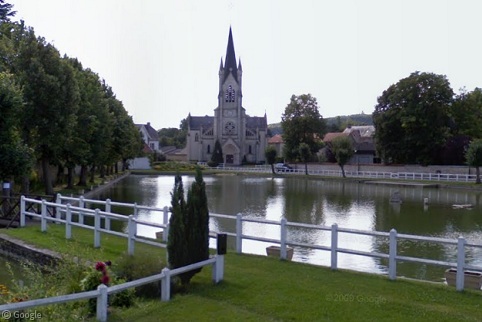 While much of the original infrastructure has been removed, the remaining buildings are slowly being restored. Since Street View visited the old circuit, the buildings have been repainted and even the old adverts have been restored, a fitting tribute to the golden age of Formula One racing.