Chiang Mai, Thailand
Monday, 3rd May 2010 by Kevin Batdorf
The city of Chiang Mai, founded in April of 1296, was once a capital city protected by a powerful defensive wall, surrounded by a square moat. Although most of the inner wall has since been destroyed, some of it still remains intact. Regardless, the rich culture of the once powerful Lanna Kingdom still lives on in this modern Thai city.
Chiang Mai was the original capitol of the Kingdom of Lanna, who built and inhabited of the area until 1558, when it came under Burmese rule. The Lanna people fled to Lampang, just east of Chiang Mai.
In 1767, the Burmese attacked the city of Ayutthaya in the south. This triggered the northern Lanna people and the southern Kingdom of Siam (now the Kingdom of Thailand) to combine forces to remove the Burmese from both cities. The wall did not hold long after that, and today can only be seen in small sections, mostly isolated in each corner.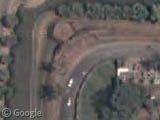 The city lay abandoned and in ruin until 1796, when Chiang Mai became a part of the Kingdom of Siam. During that time it was used as a separate northern trade centre, second only to Bangkok. Bangkok is roughly 580km (360 miles) south of Chiang Mai and transportation at the time was dangerous. It wasn't until the 1920s that transportation became more readily available and Bangkok once again was the centre of the Kingdom.
Today, Chiang Mai has expanded beyond the borders of the moat, and the population has grown to nearly one million. The influence of the Lanna is still present today – the local handicrafts, cuisine, ceremonies, and much more are distinctive from the rest of Thailand.