Exploring Hong Kong with Google Street View (Part 2)
Tuesday, 15th June 2010 by Matt Bucher
In our previous exploration of Hong Kong, we looked at how a map of Hong Kong doesn't give you a good sense of the city's terrain. There are lots of islands, lots of hills and mountains, scattered neighbourhoods, and plenty of tall buildings. Since we were able to get up and look around from some of the peaks, it's time to get down on the streets and explore the rest of the city.
Hong Kong Island
Many people equate Hong Kong with high-end shopping. And if you're looking to spend money in the shops, it's likely you'll end up in Causeway Bay.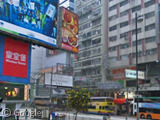 In Causeway Bay, you'll notice the unique trams along Hennessy Road. Hong Kong is the only city in the world with a system that runs exclusively double-decker trams.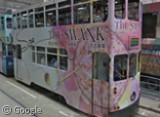 As you can see, they also sell full, wrap-around advertising on the trams.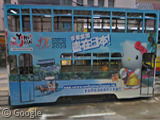 Another unique form of transport are the Central-Mid-Levels escalators, the largest outdoor escalator system in the world. The escalators travel north to south through the hilly, narrow roads and carry over 60,000 pedestrians per day, free of charge.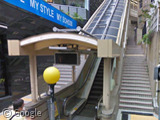 The exotic foods and street food vendors in Hong Kong are also a major tourist draw. Here are some interesting food stalls along Gage Street.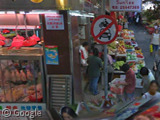 Finally, along the south end of Hong Kong Island we find another tourist attraction: the Stanley Road market and boardwalk, here's a view from the boardwalk: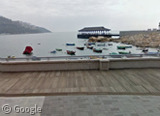 Kowloon Peninsula
Of course there are plenty of attractions and shopping in the other areas of Hong Kong. The neighborhood of Sham Shui Po is famous for its thousands of electronics vendors, especially those along Apliu Street.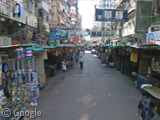 Also, if you want to get a bespoke tailored suit while you are in town, the place to go is Chan's.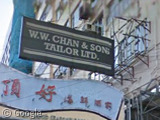 The tallest building in Hong Kong is actually on the Kowloon side of the harbour. The International Finance Centre stands 415.8 m high (1,364.2 feet) and was just completed in 2010. By roof height, it is the seventh tallest building in the world. Here you can still see cranes on the top of the building, finishing the top floors.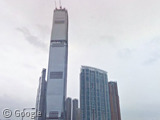 And here's a full length shot of it from across the harbour: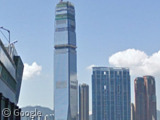 Other attractions in Hong Kong include Disneyland and Ocean Park, but the Street View car did not good imagery of either place — maybe the Street View trike will visit them someday!
There are thousands of other streets to explore and islands to visit, but for now, that's it for our Street View tour of Hong Kong. One downside to experiencing Hong Kong strictly via Google Street View is the eternal sunshine — you never get to see Hong Kong at night.