Global Vipassana Pagoda
Thursday, 1st July 2010 by Ian Brown
The Global Vipassana Pagoda, found north of Mumbai in India, is a copy of the Shwedagon Pagoda visited by Google Sightseeing a couple of years ago, though somewhat more restrained with regards to the 'bling' factor.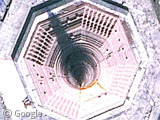 The reduced attention to bling means that only the spire is coated in gold leaf and topped by a large crystal; the rest of the interlocking-stone dome will merely be painted in a gold colour.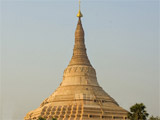 Created as a place for up to 8,000 Buddhists to gather and meditate, the Pagoda claims a couple of records:
the world's largest stone dome built without any supporting pillars; and
the world's largest structure containing relics of the Buddha.
While the complex is still incomplete in the Google imagery, a number of structures are visible, including the first of two smaller pagodas, a meditation centre, and a museum.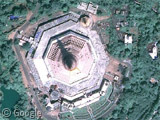 And scrolling further north on the property reveals a paradoxical situation, as can happen so often in India. This huge monument to faith and peace is actually connected to a large amusement park!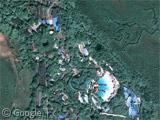 Esselworld is a joint theme and water park, with all the usual rides, slides and family attractions, bringing in up to 10,000 people a day. Travel directions for the Pagoda generally suggest asking your driver to take you to the theme park, as your driver is more likely to know where that is!
More information can be found at Wikipedia and the Pagoda's official site.
Thanks to Sandesh.