Auroville
Tuesday, 5th May 2009 by Alex Steinberger
Auroville is an experimental town and self-proclaimed "universal city in the making" near the South-Indian city of Puducherry1.
Built around a massive gold-plated meditation dome known as the Matrimandir, Auroville was created in hopes that it would be a model for peace, learning, and environmental stewardship.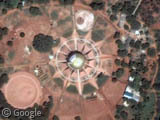 The town was founded in 1968 by Mirra Alfassa, a spiritual leader known to her followers as "The Mother", who created the guiding principles of the town as well as a governing organisation that today is nebulously referred to as "the Foundation".2
Taking a closer look at the Matrimandir reveals its sheer size and architectural complexity - although it does look a lot like a much shinier version of Walt Disney World's Epcot Centre.
Getting a peek inside the sacred meditation chamber within the Matrimandir is difficult for outsiders, but it's reported to contain a polished white marble room with a light-reflecting crystal suspended at its centre. Despite sounding like the inside of a trendy nightclub, it has been described as "a place to find one's consciousness".
A bit further to the south, we can make out one of Auroville's clever alternative energy solutions. Sitting atop the aptly named "Solar Kitchen" is a 15-metre-wide solar bowl that concentrates light from the sun to heat water for the restaurant. The array is so powerful that it can heat enough water to 150°C to cook over 2,000 meals per day!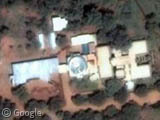 If you feel like this little slice of utopian heaven might be might be a good change of pace from your hectic lifestyle, Auroville has varying lodging options for tourists, and even a visitor's centre. Come to think of it, I could go for some solar-boiled tofu curry right about now...
For a complete guide to all of Auroville's sights, culture, and history visit the official Auroville website, or for just the facts, the Auroville Wikipedia page.
Thanks to Nilauro, Rob Alexandre, and Sudipto Ghosh.
---
Previously Pondicherry, the name of the city was officially changed in September 2006. ↩︎

If you think this is beginning to sound like a bad Logan's Run remake, don't worry... Aurovillians seem to live quite long and happy lives. ↩︎