Vinpearl Land (Island Week 5)
Friday, 1st October 2010 by Alex Steinberger
The coastal Vietnamese city of Nha Trang is a well-known and well-traveled tourist destination. It is blessed with all the natural beauty a resort town could hope for: beautiful white sand beaches, crystal-clear water, and a bay full of unspoilt limestone islands. And then there's Vinpearl Land.
Nha Trang's role as the default vacation capital of Vietnam developed over several centuries. Under French colonial rule, dignitaries living in the region recognized Nha Trang's sheltered waters and pristine beaches, and built many ornate villas along its coastline. Popular with American soldiers, the region's popularity continued to grow even during the Vietnam War. Today Nha Trang attracts not only the obligatorily grungy backpacking lot but also droves of package tourists.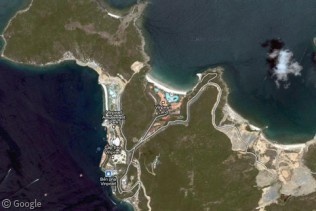 Enter Vinpearl Land, a full-service family fun destination and Vietnam's take on the all-inclusive resort. Built on Hon Tre, the largest of Nha Trang's five main islands, Vinpearl Land boasts an amusement park, water slides, and an aquarium in addition to its 5-star hotel.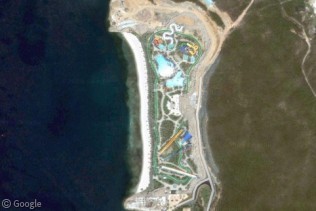 Though Vinpearl resort is no doubt a very classy establishment, it is not without its share of kitsch. In addition to a nightly water fountain laser show, it proclaims its existence to everyone on the mainland with an even tackier version of the iconic "Hollywood Sign."
Part of Vinpearl's notoriety comes from the method of conveyance used to shuttle tourists to the island. A 3,311 metre-long oversea aerial tramway, the longest of its kind1, can transport up to 1,500 people per hour to the behemoth resort. At roughly £10 per ride, the price is a bit steep but includes amusement park access and all the fun you can handle!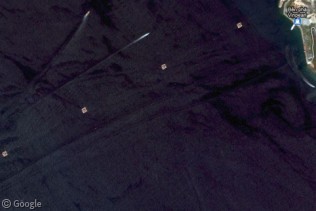 It is interesting to note the speed with which Vinpearl was constructed; the Vinpearl Group has only existed since 2002 and Vinpearl Land wasn't completed until 2007. Thanks to Google Earth historical imagery, we can see the rapid progress that ensued as well as the deconstruction and redevelopment of one of Nha Trang's old fishing villages.
In this image, taken in April of 2002 we see early stages of the hotel construction. The amusement park has not yet been built and in its place we can see a few huts comprising a village and a veritable flotilla of traditional houseboats.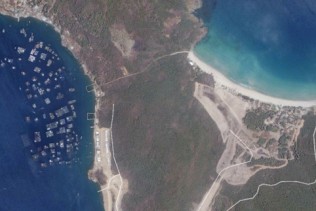 By August of 2006 Google's historical imagery shows us a very different picture. Notice the completed hotel and nearly finished amusement park. One can only infer that the fishing village probably didn't mesh with what the resort operators had in mind for the island and was hopefully relocated to somewhere nearby.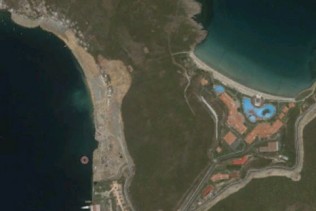 Unfortunate side-effects aside, the development of Vinpearl Land represents significant economic progress for Vietnam and has been a major source of employment in that region. In addition to creating residual benefits for the Vietnamese tourism industry as a whole, its success is a sign that more development is probably on the way. Perhaps it is just the first step to bigger and better things...can anyone say Disneyworld Vietnam?