Oddities in Washington, DC
Monday, 22nd November 2010 by Tom Howder
Most residents of Washington, DC typically go about their daily lives removed from political machinations. Today we're going to explore my hometown, but skip the monuments, the museums and the stereotypes to enjoy a more unusual geography.
We have Exclaves
The Potomac River defines Washington, DC's southwestern border all the way to the opposite shoreline with Virginia, rather than being shared down the middle of the river, and this creates several interesting anomalies.
I wouldn't count a drive along the famous Beltway amongst life's great joys but travelers do get to enjoy a tiny slice of the District as they cross the Woodrow Wilson Bridge. It's a mere 0.11 miles, but how many thousands of people wrongly assume they've never visited the nation's capital?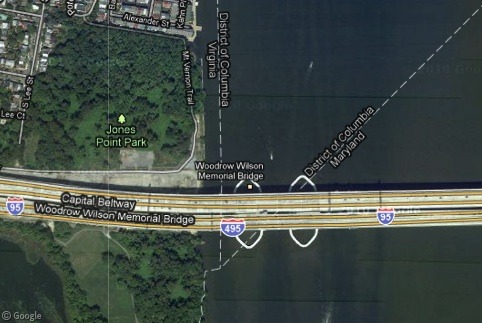 Theodore Roosevelt Island is also included within the District's boundaries but visitors can only get to it overland from Virginia, via footbridge.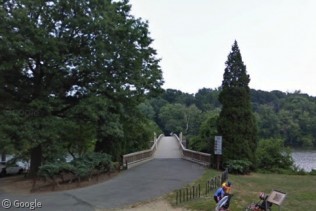 We have Lines
Washington, DC has four historic prime meridians. The most well-known is probably the American Meridian that served as a longitudinal anchor for several of the western United States. Its heyday lasted only a few decades until Greenwich became the standard. The city commemorates its American Meridian with a plaque and a line drawn on the George Washington University campus. I believe the line actually goes right down the street but I suppose that wouldn't be nearly as safe or convenient.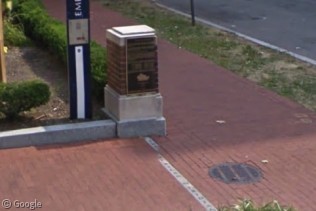 Southern Avenue defines much of the District's southeastern border with Maryland, but not completely. Here it jogs around the National Capitol Hebrew Cemetery. The line seems to intersect some of the burial plots particularly in the upper-right corner. I hope someone buries me at an obscure geo-oddity when my time comes.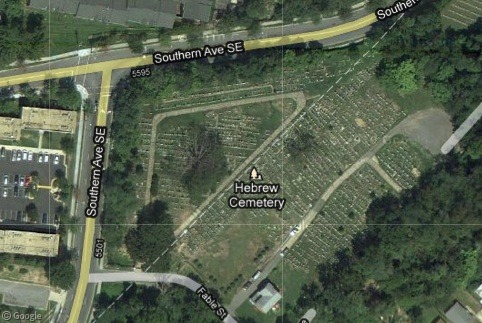 We have History
This isn't an ancient Corinthian ruin but the original columns of the U.S. Capitol. This well-preserved collection graces a field at the National Arboretum. I like to visit when the azaleas bloom in the spring.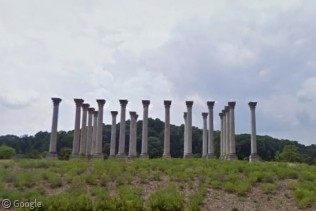 The Chesapeake and Ohio Canal extended 185 miles from Georgetown to Cumberland, Maryland. Visitors can relive those days as mules pull canal boats on hour-long cruises in the warmer months.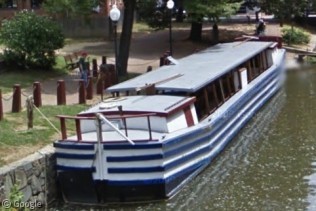 We have Conundrums
Unintended consequences can result when someone refuses to sell a property to developers. The owner of this home eventually changed his mind and sought $1.5 million, but it may have been too late.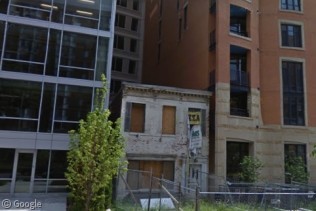 Can a city truly be considered a city without a "world's largest" something? Anacostia has the Big Chair, a 1950's promotional stunt that became a beloved local landmark.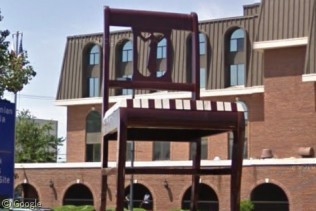 We have Contradictions
The District of Columbia isn't a state, although it's often listed as an equivalent, so Peakbaggers frequently include DC as they attempt to summit every state highpoint. Washington DC's Fort Reno Park bears little resemblance to the USA's top summit (Denali, Alaska) but is at least subway accessible.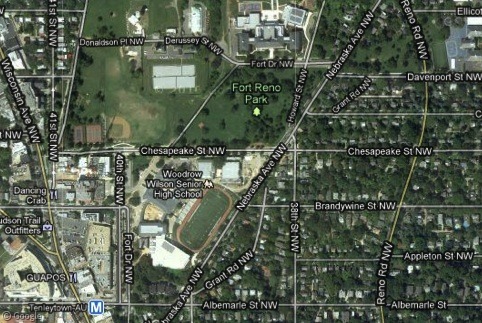 Our final Washington, DC oddity isn't even in the District: Boundary stones marked the original perimeter at one mile intervals, and some of them are now located completely within Virginia. The state contributed land to form a portion of the District and gained it back in the 1847 retrocession. This stone sits within an iron cage in someone's front yard in Alexandria, Virginia.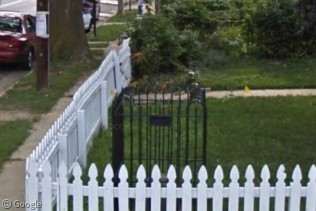 It's been a pleasure walking you briefly through a few sites in the District of Columbia, with special apologies to locals who didn't see a favorite spot referenced. I barely scratched the surface as I culled from an extensive list. Feel free to add further detail or mention other locations in the comments, and please stop by my blog, the Twelve Mile Circle, if you are a fellow collector of geo-oddities.