Stanley Park, Vancouver
Tuesday, 29th March 2011 by Kyle Kusch
Stanley Park is the centrepiece attraction of the city of Vancouver, receiving eight million visitors each year. At exactly 1,001 acres, it is ten percent larger than New York's Central Park. A mix of natural and man-made landscapes, the park is renowned for its temperate rainforest setting on a peninsula that juts into the Strait of Georgia.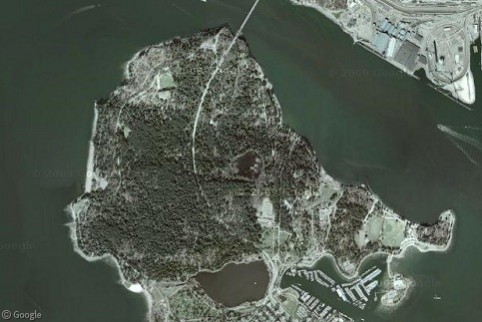 Named in 1888 for Governor-General Lord Stanley of Preston (the same man who donated that most hallowed of Canadian sporting trophies, the Stanley Cup), Stanley Park hosts 120 miles (200 km) of forested walking trails. For motor tourists, access to the park comes via Stanley Park Drive, where vehicles share the road with horse-drawn tours and trolley cars.
The main attraction of Stanley Park may be the 5.5 mile (8.8 km) seawall that encircles the park. The seawall is always filled with sightseers, joggers, and cyclists. Just be careful – hired mercenary bikers from YouTube may be following you.
Those are friendly mercenaries, of course; part of the support crew for the Street View trike which captured the entire seawall and the fantastic views therein, such as this shot of boats in Coal Harbour backed by downtown Vancouver.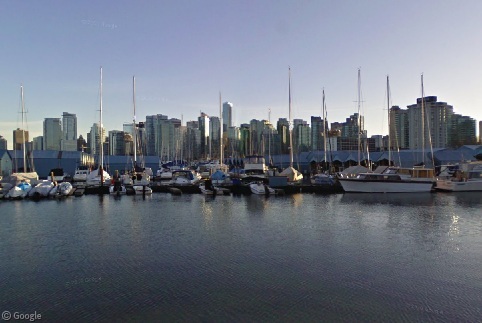 The Street View trike visited Stanley Park a few months after the car, providing contrasting views of the same location based upon the tide:
On the west side of the seawall lie such attractions as the 60-foot-high Siwash Rock and the outdoor swimming pool at Second Beach, captured at dusk in a rare state of desertion.
Brockton Point lies at the east end of Stanley Park, and is home to the most visited tourist attraction in British Columbia, the Stanley Park totems. Just west of Brockton Point lie numerous decorative and memorial gardens.
The Brockton Point Lighthouse provides views of Burrard Inlet and the suburbs of the North Shore, as well as the most common sight of all in Stanley Park: tourists preening for pictures.
At the north end of Stanley Park is the historic Lions Gate Bridge, which crosses Burrard Inlet. Completed in 1938, the 1,550 foot (472 metre) suspension bridge was built by the Guinness family and opened by King George VI.
The view from the Lions Gate leaving Stanley Park is pretty spectacular, but it'd be hard pressed to beat the view of the ocean from the seawall at dusk.