Ripley's Believe It or Not
Wednesday, 4th May 2011 by Ian Brown
Ripley's Believe It or Not celebrates peculiar events and curious items through a variety of media (television, film, books, games) and a chain of museums around the world. Many of the Odditorium museums were created to look like they had been involved in some kind of disaster, such as the one in Gatlinburg, Tennessee.
The walls are riddled with cracks, as though the building had been rocked by a huge earthquake. Just one of several Ripley's attractions in this tourist-destination city, it is a relatively recent building. The original museum here was destroyed by a real disaster in the form of a fire in 1992.
Tourist towns are a natural fit for Ripley's bizarre collections which include genetically mutated animals (two headed creatures are a favourite) and relics from infamous events. In Niagara Falls, Ontario, visitors who tire of watching water flow over a cliff can walk up Clifton Hill where they'll find a prostrate version of the Empire State Building, complete with King Kong.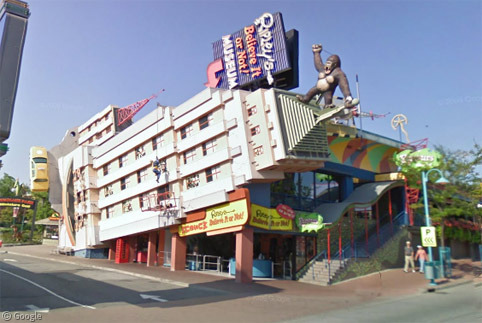 The details are worth noting, including the person hanging out of a window and the helicopter on the 'top' of the building.
Meanwhile Blackpool's beachfront museum has a veritable trove of exterior oddities, including Jeep embedded in the entranceway with an explorer climbing a rope to escape and a pair of legs sticking out of the wall. On the roof there's a dinosaur wearing a large clock - maybe he thinks he's Flavor Flav?
It's a little hard to make out on the satellite view, but the Odditorium in Thailand's resort town Pattaya has a plane crashed into its walls. Something similar also happened at the Ripley's in the small town of Wisconsin Dells.
Another transportation-themed museum is found in Panama City Beach, Florida, where an ocean liner has 'washed up' several hundred metres from the shore.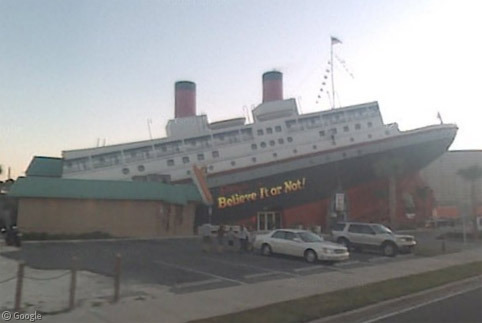 The Street View car even pulled into the parking lot for a visit - giving us a close up look at the lifeboat!
In Branson, Missouri, there is another 'earthquake-ravaged' building, while in Myrtle Beach, South Carolina, the museum looks as though it has been damaged by the many storms that hit this hurricane-prone region.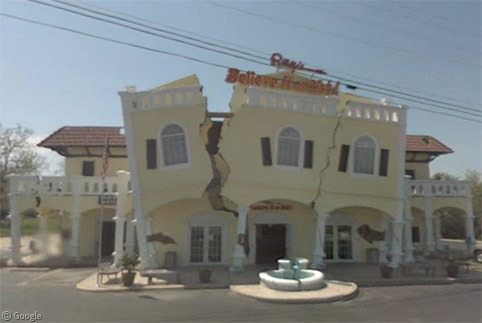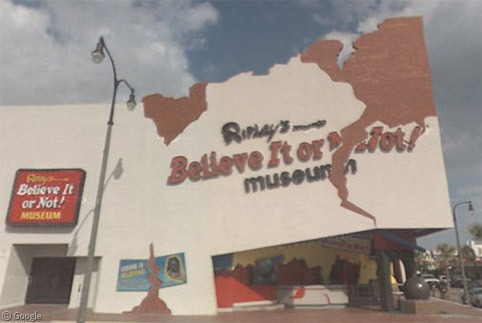 Finally, the Ripley's museum in Guadalajara, Mexico, is not at all architecturally unusual, but Street View does allow us to see an exhibit – a silver Rolls Royce, which I believe (if Google Translate is correct) was once the property of La Doña Maria Félix, a notable Mexican actress.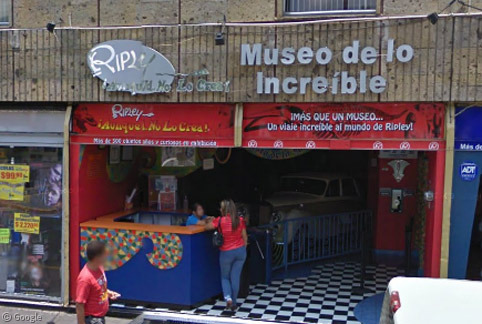 You can learn more at Wikipedia, or Ripley's official website.