Pigtail Auto Loops
Wednesday, 10th August 2011 by Tom Howder
Routes can curve so completely that sometimes they loop all the way around and cross over themselves at a different elevation. Generally this happens in mountainous areas or in tightly-confined urban areas where there isn't enough space to create a reasonable grade with a straightaway. This simple but dizzying solution goes by several names including spiral, loop and pigtail. I'm partial to pigtail simply for its whimsical imagery, of paths coiling and curving in concert with rolling contours, of roads behaving in magical ways as they wind their way through tough terrain.
Railway pigtails can be found throughout the world. One example was featured on Google Sightseeing several years ago, the Tehachapi Loop outside of Bakersfield, California. Automobiles climb tighter slopes but they also operate in smaller spaces so there are plenty of examples on roadways too. Pigtails can appear in city settings where motorway or bridge ramps converge in constricted downtown areas, or as a common feature in multi-level parking decks. I'm more interested in their rural cousins however, the roads that might be rather fun to drive!
Following a reader suggestion, I tossed the idea to the usual crowd at my own site, Twelve Mile Circle. The result presented here on GSS reflects contributions by several people and demonstrates the effectiveness of respectful online conversations.1
Great Smoky Mountains, USA
A national park protects much of the Great Smoky Mountains, an offshoot of the Appalachians. Newfound Gap Road cuts directly through the park, a rare path through the rugged range, connecting park headquarters in Tennessee to protected areas in North Carolina. The road dips, snakes and curves along the gap, and finally pigtails near one of the park's most recognisable features, Chimney Tops on Sugarland Mountain.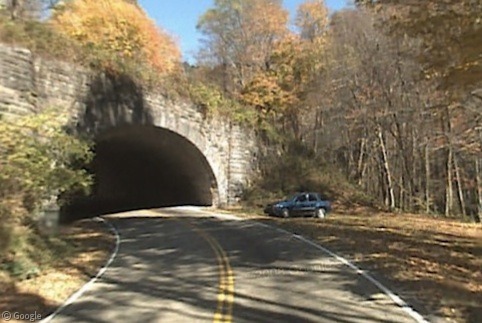 Black Hills, USA
Pigtail roads and bridges can be found in considerably greater quantity in the Black Hills of South Dakota. This suggests a great scenic drive for those interested in experiencing the pigtail phenomenon in person. Start first at Wind Cave National Park, and head north on Route 87 on a course towards Mt. Rushmore. The first pigtail will be experienced perhaps two km from the Wind Cave visitors centre.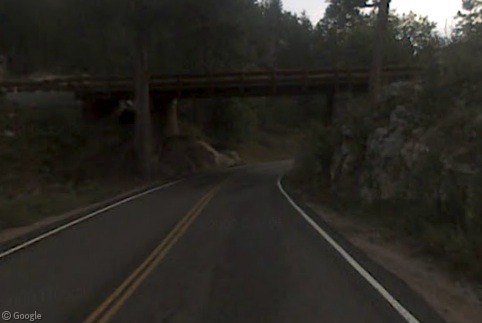 Chart a path from there that involves Route 16A -- Iron Mountain Road -- approaching Mt. Rushmore from the south, and three more pigtails will appear in quick succession about 50 km (30 m) from Wind Cave.
This unusual concentration of pigtail roads and bridges is not coincidental: they were all constructed in the 1920s to provide an elegant solution to sudden elevation changes while slowing drivers down so they could enjoy the scenery.
Majorca, Spain
A particularly spectacular instance can be found on the road between Escorca and Sa Calobra on the island of Majorca, Spain. This one is simply stunning, both for the expansive view and for the complete visibility of the loop. No doubt others feel likewise as there is a pullout on the northeast side of the pigtail for people to stop and appreciate what they've encountered.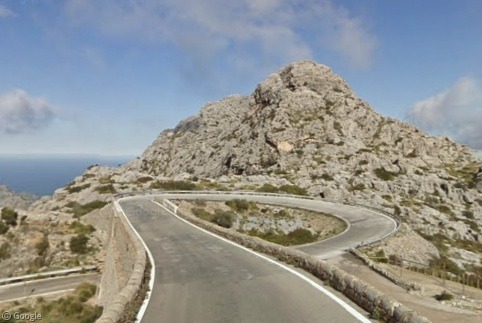 This 12.5 km road and its awesome pigtail, first opened in 1932, are a signature achievement of Italian road engineer Antonio Paretti.
Savona, Italy
If one pigtail road and bridge should get an award for sheer elevation gain, this occurrence on A6, the Autostrada Torino-Savona, might likely win. The road visible in the valley foreground is the same as the one on the viewer's side of the guardrail. The road navigates several tunnels through the mountainside as it climbs to this point. This stretch was once known as the Autostrada della morte, the Highway of Death, until improvements were made in recent decades.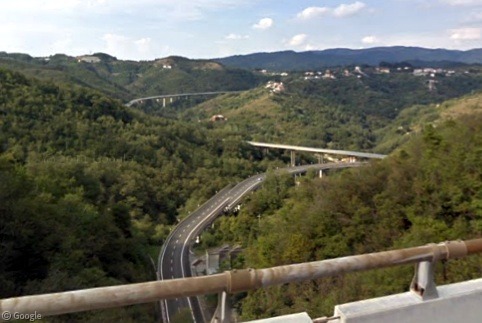 Besides the pigtail, it has all sorts of amazing curves and tunnels in general.
I wouldn't mind going for a drive on any of these roads.
---
A special thanks to Thias, Aaron, AF, Joe, Ken, Mike Lowe, and Voyager9270. ↩︎