Floating Bridges
Thursday, 3rd April 2014 by Ian Brown
Floating bridges, while often temporary structures used in times of war or disaster, can also be used long-term in locations where water conditions are very sheltered. The road surface is supported by pontoons, which - while they do float - are usually anchored to the sea, lake or river-bed to ensure they stay in place. The longest floating bridge in the world is the Governor Albert D. Rosellini Bridge—Evergreen Point which stretches 2.3 km (1.4 miles) as part of a longer bridge across Lake Washington between Seattle and Medina.
Elevated bridge sections near each shore allow boats and ships to pass, though there is also a draw span in the middle of the floating section. The deck is raised and retracted from the opening to allow larger vessels to pass.
Since opening 50 years ago1 the bridge has been modified and updated in various ways in an attempt to keep it safe. Traffic is blocked from using it in high winds, and a major earthquake would probably cause it to collapse. In 1997 engineers said the bridge could only be expected to last 20 more years, meaning it should be almost at the end of its useful lifespan.
A new seismically-safe six-lane bridge is being constructed next to the existing structure, and we can see the first pontoon under construction near the eastern end of the bridge - though pontoon construction problems are leading locals to question how safe it will actually be.2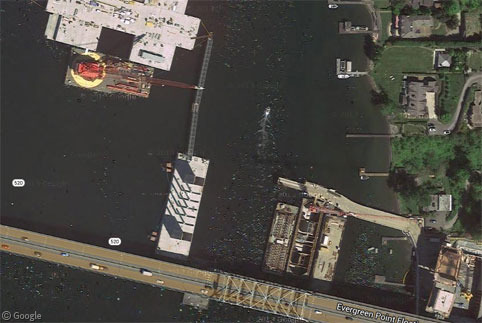 Just as short distance to the south are two more floating bridges across Lake Washington - the Lacey V. Murrow Memorial Bridge (2 km / 1.2 miles, the second longest floating bridge) and the Homer M. Hadley Memorial Bridge (1.77 km / 1.1 miles, fifth longest, but also the widest).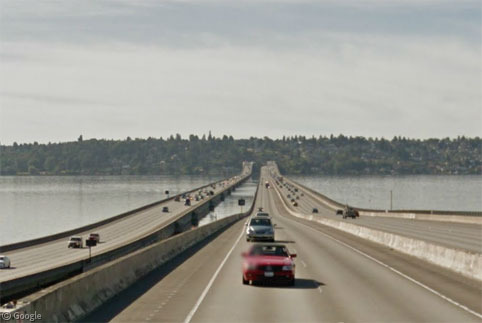 The Lacey V. Murrow Memorial Bridge was originally built in 1940 but sank while being refurbished during a heavy storm in 1990, as shown in this YouTube video.  The replacement bridge opened three years later.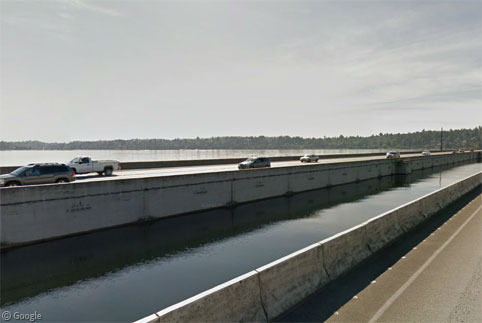 Although the companion Homer M. Hadley Memorial Bridge had just opened in 1989, commuter traffic was completely crippled for a short time after the sinking because cables anchoring the new bridge were damaged. High-occupancy vehicle lanes on this bridge are about to be converted to light-rail lines - it is believed that this will be the first transit rail system to cross a floating bridge.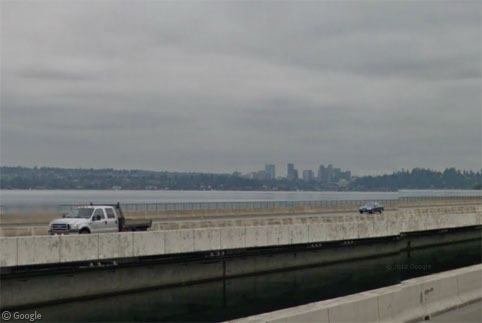 A short drive to the north-west brings us to the third-longest floating bridge, over the Hood Canal, which is only slightly shorter than the Lacey V. Murrow Memorial Bridge. Again, what we see is the second version of this bridge which opened in 1982. The original bridge broke apart and sank in a terrible windstorm in 1979.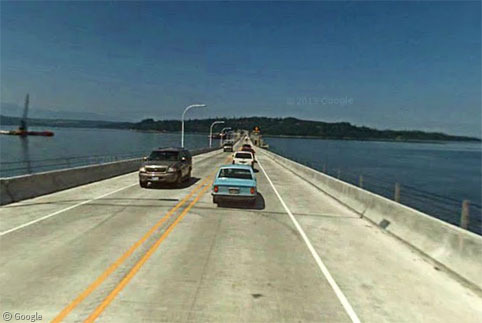 Moving south to Portland, Oregon, we find the world's longest floating pedestrian bridge, the Eastbank Esplanade, which runs along the Willamette River. We have to wonder if it's as tranquil as it looks, being surrounded by a network of elevated roads.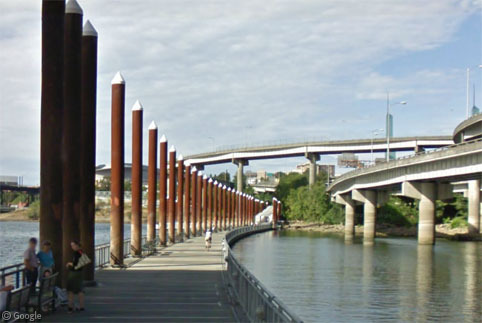 We've never had a post on Google Sightseeing before that featured a sight in Guyana, but there are two floating bridges in the country which we can include here! Both are about 1.8 km (1.12 miles) long.
The Harbour Bridge crosses the Demerara river a few kilometres south of Georgetown, the capital of Guyana. Completed in 1978, it too suffered a partial collapse and sinking in 2012.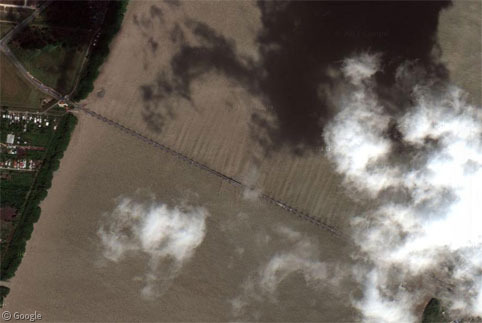 Guyana's Berbice Bridge however only opened in December 2008.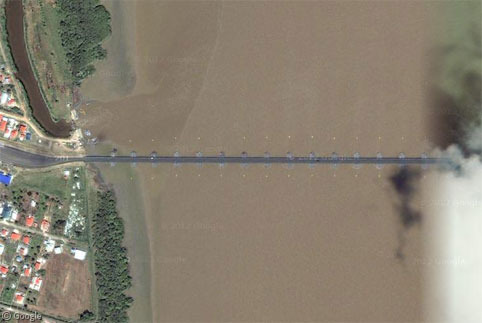 Another new country for us is Curaçao in the Caribbean, where this Photosphere by Joscelin Trouwborst allows us to see the Queen Emma pedestrian bridge in Willemstad. This is a swing bridge – meaning it can be swung to the side to allow boats to pass.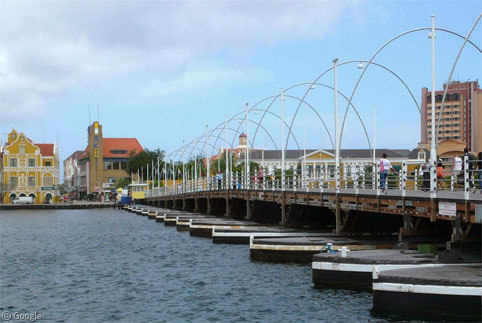 There are two floating bridges in Norway - the Nordhordland Bridge and the Bergsøysund Bridge - both built in the 1990s.
Back to North America and the Sunset Lake Floating Bridge in Vermont which we took a very brief look at a few years ago. The Street View car was not able to cross the bridge - its poor condition means it is closed to traffic.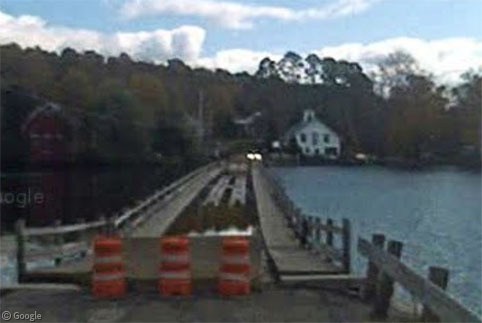 Finally to Dongjin in China where there is an historic bridge still in the form in which the earliest floating bridges were made - platforms supported by boats which are roped together. The 400m (¼mile) bridge is laid across 100 boats in the Zhang river.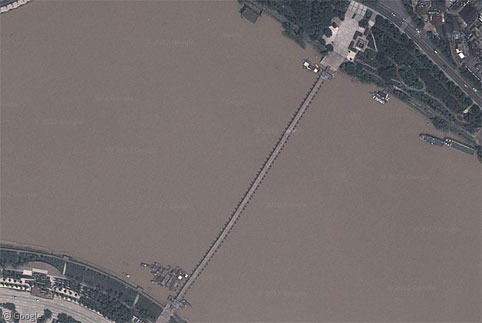 You can read more about floating bridges on Wikipedia, and if you know of any others visible on Google Maps or Street View, please post links in the comments!