Airship Hangars Around The World
Thursday, 10th April 2014 by Ian Brown
From the late 19th century to the period between the World Wars, hundreds of airship hangars were built in Western Europe and the USA to house the massive lighter-than-air craft. Today, only a handful of these huge structures remain, including the earliest such building – Hangar Y at Chalais Meudon outside Paris.
Hangar Y was built in 1879 on what was then a military base. It is 70m long, 24m wide and 20m high (230′ x 78′ x 65′), although additional structures have since been added on both sides. It was originally a pavilion at the Paris exhibition, but was moved to house the airship La France. It later served for several decades as a museum and was used by painter Marc Chagall when he was working on large ceiling panels for an opera house.
We can get a couple of glimpses of the building on Street View. It has been designated a historic site and restoration work has been taking place for a number of years – particularly on the end we can't see, where the steel frame distorted and broke many of the windows.
Early in the 20th century, the UK and US armies experimented with 'portable' airship hangars – temporary tent-like structures which could be moved wherever they were needed. The frame of one such hangar has been reconstructed in Farnborough, Hampshire, where the Balloon Factory was once based.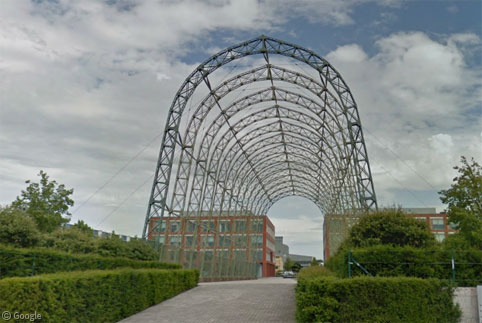 Elsewhere in England, two intact hangars can be seen at RAF Cardington in Bedfordshire. Constructed by the Royal Airship Works during World War I, Number 1 Shed (on the left in the image below) measures 247m long, 84m wide and 55m high (812′ x 275′ x 180′). Number 2 Shed is slightly smaller, even though it was enlarged after being moved here following initial construction.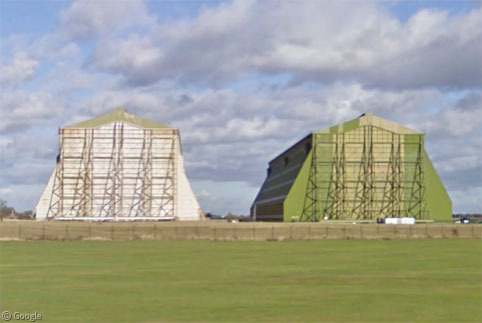 Shed 1 has recently been in the news as the location of what is being called the world's longest aircraft – an airship which is aerodynamically designed to create lift just like an aeroplane wing.
Also in England, the roof of an airship hangar was re-purposed as a large grain drying shed on a farm at St Mary Hoo in Kent. It also dates to WWI and is believed to have been built on the nearby Royal Naval Air Service base, before being moved to its current location in the 1920s.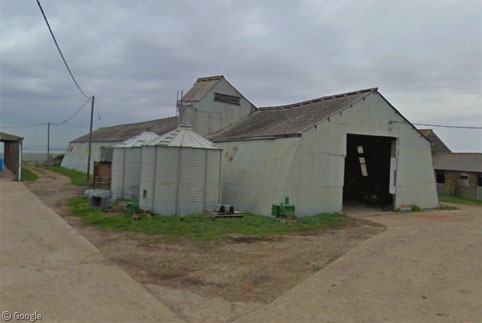 All of the hangars in England are protected – you can read more about their history at the British Listed Buildings website: Farnborough, Shed 1, Shed 2 and Moat Farm.
The largest numbers of airship hangars were built in Germany for the Zeppelin and Hindenburg classes of rigid airships, however they were systematically demolished after WWII. The country is, however, home to the only hangar built after that conflict, in Krausnick near Berlin. Constructed in the 1990s for an airship that was never completed, it was later converted to an indoor beach theme park called Tropical Islands.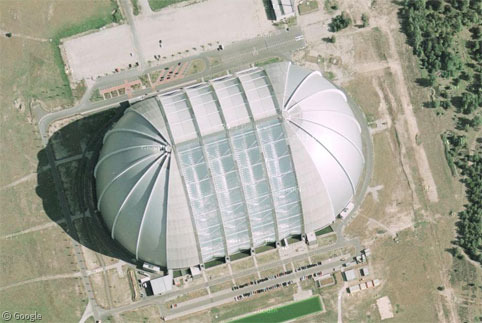 A photosphere by Elena Fedorova allows us to see inside the resort, including the southern wall where the steel siding panels were replaced by translucent film to allow natural light to enter, and you can learn more at the official website.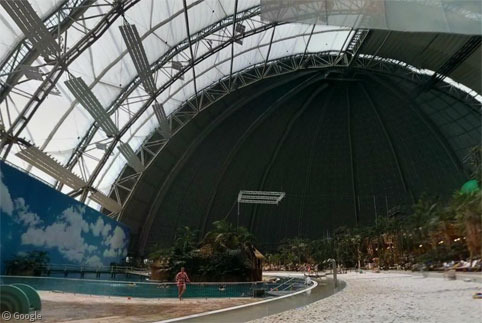 The only Zeppelin/Hindenburg hangar still standing in its original form is actually near Rio de Janeiro in Brazil. The hangar at Bartolomeu de Gusmão Airport (now the Santa Cruz Air Force Base) was built in the 1930s and saw regular transatlantic airship service from Germany, allowing passengers to transfer to planes bound for other South American destinations.
Zeppelin hangars have been reused for other structures, including for the Central Market in Latvia's capital Riga. Five hangers were rebuilt on a centuries-old market site with additional architectural elements to make them permanent structures, which are now part of a UNESCO World Heritage Site encompassing this part of the old city.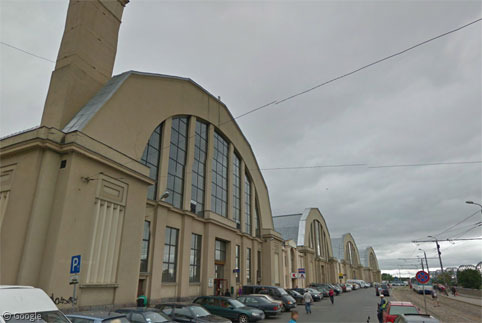 Quite a number of airship hangars were built in various locations across the USA before and during WWII. Hangar B in Tillamook, Oregon is the largest clear-span wooden structure in the world at 327m long, 90m wide and 59m tall (1072′ x 296′ x 192′). A second hangar on the site was lost to fire in 1992.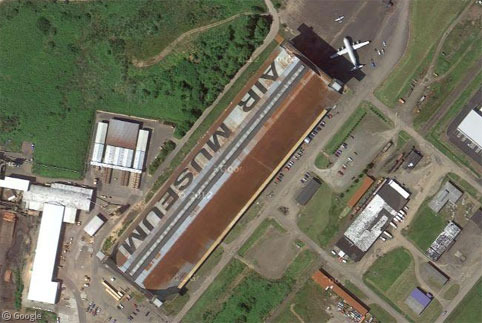 While a company still operates blimps out of the building, part of it is also home to an Air Museum, which is actually visible on Street View, allowing us an excellent look at the hugely impressive interior of the wooden structure. Part of the plane collection is covered by a tent – probably to protect them from the elements. The roof is apparently not in great shape and the museum plans to move elsewhere in the coming years, meaning the building faces an uncertain future as the repair bill would be significant.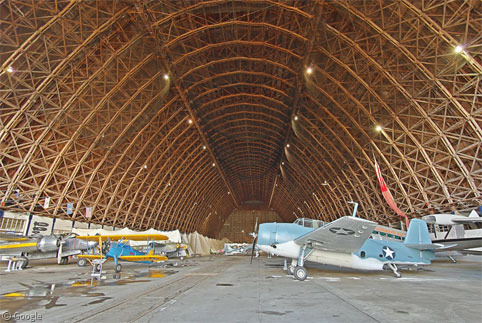 Two WWII-era hangars are located at Marine Corps Air Station Tustin in California. Nearby residents are hoping that the structures can be preserved as the base is decommissioned and converted to a regional park.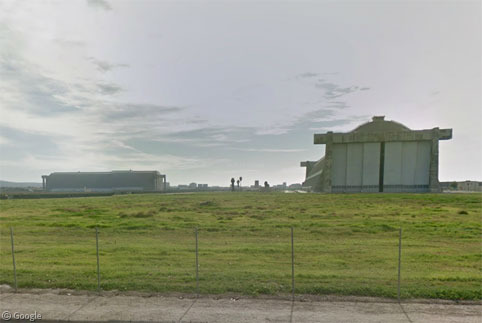 A few hours to the north-west in Silicon Valley, Moffett Field has three airship hangars built in the 1930s. The TV show Mythbusters has filmed there several times when they needed large spaces to work in.
The exterior covering of Hangar One has been removed because it contained hazardous materials. The 45º imagery shows this process partly completed …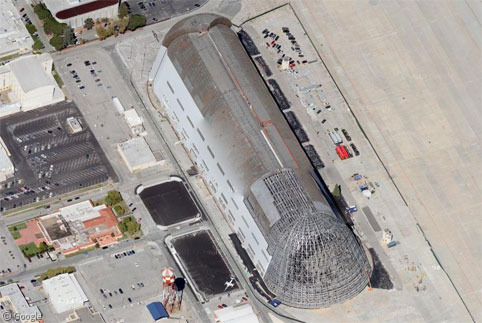 … while this Photosphere from Joey Rozier shows the entire steel skeleton exposed, and really shows the vast size of the building.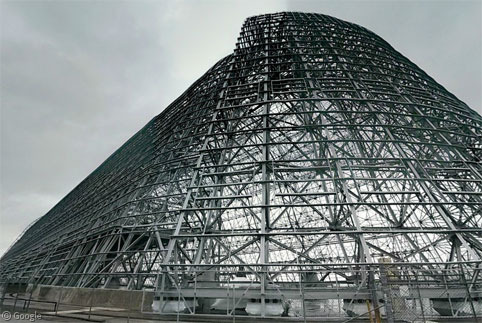 Two smaller hangars (Two and Three) of wooden construction are found on the other side of the airfield.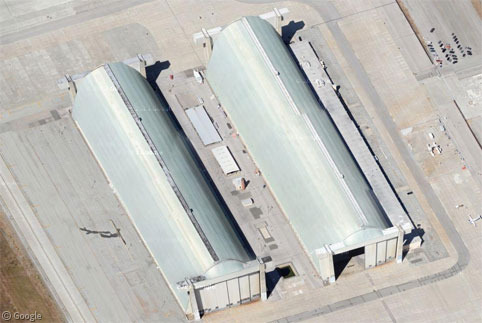 A Photosphere created by Steven dosRemedios actually allows to see an airship!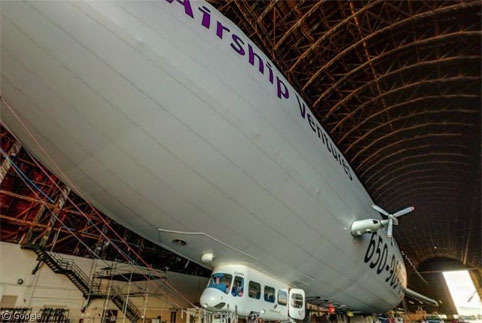 Several hangars can be found at Naval Air Station Lakehurst in New Jersey, site of the Hindenburg disaster in 1937.
The Goodyear Airdock is located in Akron, Ohio.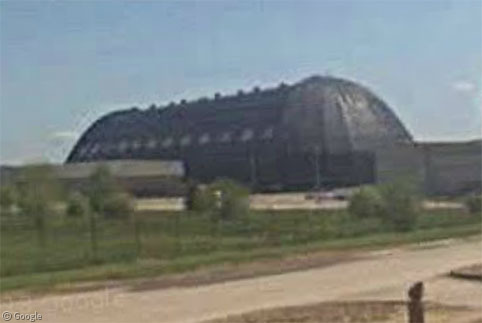 And finally, in North Carolina, the Weeksville Drigible Hangar. Unfortunately there is no Street View on the nearby road Blimp View Drive.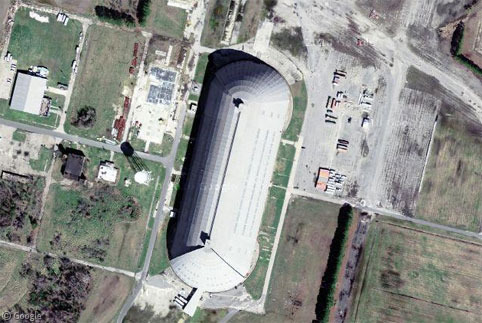 If you know of any other airship hangars that we didn't include, please post links in the comments!