Hole In The Coast
Monday, 11th July 2005 by Alex Turnbull
Update: After much debate in the comments of this post, determined reader Patrick has finally tracked down the truth about this mysterious location! Patrick contacted a friend who lives in Mexico and she pointed him towards this forum thread, where he discovered that this is a place called La Lobera; and our 'hole in the coast' is in fact, a collapsed sea cave. There's some brilliant images of the hole and the surrounding area in the thread, some of which show the structure to be of pretty staggering size.
Many thanks and much kudos to Patrick, as this was driving us nuts! 😀
Anyone know what this strange hole in the coast of Mexico is? Weird.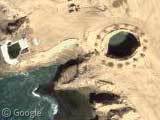 Thanks to Joey Shabadu