Vatican City
Tuesday, 5th July 2005 by Alex Turnbull
This is the Vatican City, within Rome, Italy. The home of the popes, it is the smallest independent state in the world in terms of area (0.44 km²) and population (just over 900). The Vatican City is separated from Rome by a wall (the entire border is only 3.2 kilometres long), and if your monitor is big enough, you should be able to see the entire country within one frame... at the maximum zoom level!
In our first thumbnail is St. Peter's Basilica (Wikipedia entry). Michelangelo designed it's famous dome, and of course the Sistene Chapel is also in the Vatican. St. Peter's is considered to be the largest church in Christianity, covering an area of 23,000 square meters and with a capacity of over 60,000 people. Check out this stunning image of the interior.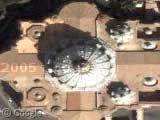 In front of the Basilica is St Peter's Square, which is actually quite far from square! It was designed so that the greatest number of people could see the Pope give his blessing. Note the Egyptian obelisk in the centre of the square (ground-level shot). The obelisk is 25.5 metres tall, and actually dates back to the 13th century BC in Egypt, although it has been in Rome since the 1st century.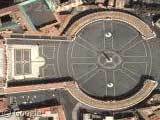 Suprisingly the Vatican has it's own radio station, satellite TV channels, and even it's own country code, '.va' (naturally, there's an official website too).
There's a useful map of the city on the lonely planet website, and the Wikipedia entry has lots more fascinating information.
Thanks: Bill Kendrick, Scott, Thomas, Adam Parker, André Jodoin, cacafuego, Kevin, Ben Singleton, Blitz, Jeff Vinocur, Salinga, Patrick, Nelson, troy, mesmart, Brad, Lars Thygesen, Bricke, Gerhard, ringo, Keith Frost, Max, Jeff Vinocur, Jeff, Nick, Jason, Luke, Justin Mancinelli, Patrick Kent, TOMHTML, Matt, Marc Armstrong, Susan, Billy, Caleb, John Hartnup, Daniel Jibouleau, Gerhard, Mark Ross, James Edmunds, Chris Davis, Bill and many, many more! Thanks everyone 🙂