The Pantheon
Sunday, 19th February 2006 by
The Pantheon in Rome was originally built as a temple to the seven deities of the seven planets in the Roman state religion, but has been a Christian church since the 7th century. It is the best-preserved of all Roman buildings and the oldest important building in the world with its original roof intact.
Brandon Rowan from Rome says:
It has a massive hole at the top and it lets in sunlight. It is not glass covered, but there are drainage holes in the floor for rain. It's amazing how bright it is. There is always a massive light circle on the floor. You have to visit this if you go to Rome.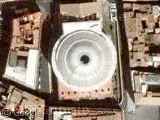 Thanks Gerhard, Frank & Brandon