Atomium
Friday, 17th February 2006 by Alex Turnbull
This is the incredible Atomium in Brussels, Belgium. It is (if you hadn't already guessed…) a 103-metre-tall representation of "a unit cell of an iron crystal" magnified 165 billion times. This thing is huge – it's 16 metres taller than the Flatiron!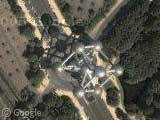 Atomium was built for the 1958 Brussels World Fair (Expo '58), but has been closed since October 2004 for much-needed renovations. However… if you happen to be in Brussels this weekend then you're in luck, as Atomium re-opens to the public tomorrow!
Thanks to Navarro, Pieter, roelens marnix, Bodega, Michel, Manu Navarro and Philippe Gautier.