Kazan Cathedral (St. Petersburg)
Friday, 19th October 2007 by Alex Turnbull
This is St. Petersburg's imposing Kazan Cathedral, which features an impressive and absolutely massive stone colonnade, encircling a small garden and central fountain. In 1876, this was the location of the first ever political demonstration in Russia.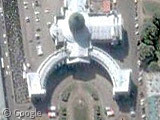 This is actually one of several cathedrals dedicated to Our Lady of Kazan1, and this one was completed in 1811, and was modelled after St. Peter's Basilica in Rome.
Here's the obligatory Wikipedia page, which unfortunately sounds like it's been automatically translated from Russian.