Cotton Castle & the Holy City (Pamukkale & Hierapolis)
Wednesday, 17th October 2007 by Alex Turnbull
These are the famous white cliffs of Pamukkale, Turkey. Literally meaning "cotton castle", this natural phenomenon is a result of earthquakes here which created a number of hot springs – the waters of which are extremely rich in many minerals, particularly chalk. These minerals have been deposited on the cliff face over the centuries, creating something like an enormous, gleaming-white frozen waterfall, 2700 meters long and 160m high (you can see the effect in these bizarre ground level shots).
Despite a period of abuse by hoteliers and tourists, this has been a popular destination for those seeking to utilise the supposed medicinal properties of the waters ever since the ancient city of Hierapolis was founded on top of the white cliffs by the Phrygian Greeks, probably in the first half of the third century BC.
Hierapolis became part of the Roman empire around 190 BC, and the Hellenistic city was slowly transformed into a Roman town – complete with two Roman baths, a gymnasium, several temples, a main street with a colonnade and a fountain at the hot spring. Eventually Hierapolis became one of the most prominent cities in the Roman empire in terms of the arts, philosophy and trade, and consequently it grew to be wealthy – and at the height of its popularity, home to 100,000 inhabitants.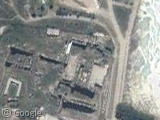 In 60 AD an earthquake destroyed the town's theatre, so a new one was built into the hillside, and in the 1534, another earthquake destroyed the remains of the ancient city, and the ruins were slowly covered with a thick layer of limestone.
Today the whole town is undergoing extensive reconstruction, and the theatre is the centre of the activity, which remains to this day as one of the finest examples of original Roman theatre decoration.
Read more about Pamukkale and Hierapolis at Wikipedia, check out some fantastic ground level shots at Flickr, or you can even read a great description of many of the features of Hierapolis at The Princeton Encyclopedia of Classical Sites.
Thanks to Tom Heisey, Simon Cope and Jane Turnbull.