Landlocked Enclaves
Monday, 15th March 2010 by Chris Hannigan
Roughly 1 out of every 5 countries in the world are completely surrounded by land, or landlocked. In a handful of cases a country can be completely surrounded by another single country. These landlocked enclaves are such a rare geographic occurrence that there are only three such countries in the world.
The Republic of San Marino
The unique thing about visiting an enclave is that no matter where you're coming from, you must travel through another country first, in this case Italy. San Marino is one of the smallest countries in the world, only 60 sq km (23.5 sq mi) in total area, ranking it number 221 out of 233 countries (and outlying territories) in total size.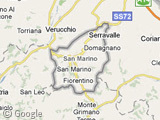 The Kingdom of Lesotho
An enclave within the country of South Africa, Lesotho's other most interesting geographical feature is that its lowest point is the highest of any country in the world! Lesotho also produces one of the most striking visual borders we've seen on Google's satellite images, due to the change in vegetation as you pass from Lesotho's west side to South Africa.
Vatican City
The smallest sovereign state in the world, Vatican City is an enclave not just inside Italy, but also inside the city of Rome. This is also the world's only walled enclave, since its small border is marked almost entirely with a city wall.
Of course it's also home to the Pope and the governing body of the Roman Catholic Church, and although not commonly known as its own country, Vatican City offers clergy, guard members and other workers optional citizenship; they generate their own income from tourist sales; and they even issue their own Euro coins.
Be sure to check out other enclave/exclave GSS articles like Point Roberts, USA, Complicated borders featuring the split personality town of Baarle-Hertog/Baarle-Nassau, and Interesting Exclaves of the United States.
Also check out Wikipedia for more information about landlocked countries, San Marino, Lesotho, and Vatican City!