The Colgante Bridge
Wednesday, 10th August 2005 by Alex Turnbull
This is the Colgante Transporter Bridge across the river Nervión in Portugalete, Spain. This extremely rare type of bridge (apparently there's only 8 of them left in the world) is designed to carry a segment of roadway across a river, and you can see quite clearly in this photo why they came up with this design.
This particular bridge was the first of its type ever built, way back in 1893… well not this actual bridge, as unfortunately it was destroyed in 1937 during the Spanish Civil War (three days before it ended) but those crafty Spaniards had in fixed again by 1941.
In our thumbnail you can see the bridge's gondola, which in the 1890s was fitted out to accommodate first and second class passengers, separated by a net… sounds a bit like British Rail if you ask me.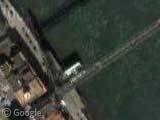 The entire history of the Colgante Transporter Bridge is available at the official site.
Thanks to Daniel.