Rama's/Adam's Bridge
Tuesday, 22nd November 2005 by James Turnbull
A 30 mile chain of limestone shoals connect the islands of Mannar, near Sri Lanka, and Rameswaram, off the coast of India. The bridge is known as Rama's bridge in Hindu mythology and Adam's bridge in Christian mythology.
Some archaeologists have claimed to prove the bridge is man-made, although not all are convinced. It does look like a very convenient connection and it is agreed that as late as the 15th century it was possible to pass the bridge on foot.
More about the bridge, as ever, at wikipedia.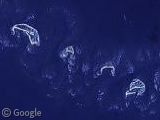 Thanks: Jane Turnbull (my mum!)