Spitfire Island
Saturday, 5th November 2005 by
The metal structure in the middle of the traffic island is a memorial to the factory and industrial area of Castle Bromwich near Birmingham which produced the famous WWII fighter plane the mighty Supermarine Spitfire.
The Supermarine Spitfire was a single-seat fighter used by the RAF and many Allied countries in WWII. The Spitfire's elliptical wings gave it a very distinctive look; their thin cross-section gave it speed; the brilliant design of Chief Designer R.J. Mitchell meant the Spitfire was loved by its pilots. It saw service during the whole of World War II, in all theatres of war, and in many different variants. The aircraft was dubbed Spitfire by Sir Robert MacLean, director of Vickers at the time, and on hearing this, Mitchell is reported to have said, "...sort of bloody silly name they would give it." 🙂
The original works have long since been replaced by new housing. The large factory that can be seen to the north-west is a Jaguar Motor Car factory.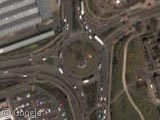 Thanks: Alastair Booker!