Roquefavour Aqueduct
Thursday, 8th December 2005 by Alex Turnbull
This is the absolutely stunning Roquefavour aqueduct, which carries water from the Durance over this valley in France. Built between 1841 and 1847, this incredible stone structure is a massive 83 metres tall. There's lots more stats and a good photo over at Sructurae.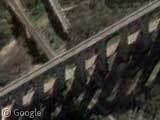 Our submitter also pointed us towards this perfectly conical tree, right in the middle of where no conical tree has any right to be. Apparently...
This is a quickly-maturing California redwood planted by the owner of the nearby house after a visit to California where he was suitably impressed by our wonderful giants
Many thanks to Paul Kim.