Belfast Docklands
Thursday, 23rd February 2006 by James Turnbull
In our never-ending quest to catalogue everything that stakes its claim to being the "world's largest something" I present to you the world's largest dry dock.
Located in Belfast's Docklands (where the ill-fated RMS Titanic was built) the dry dock is part of the Harland & Wolff Shipyard who also operate the two gigantic yellow cranes, Samson & Goliath. UK readers might recognise the area from a BBC ident that showed skateboarders doing tricks underneath the cranes.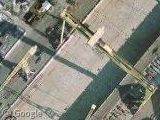 To the west is the ferry terminal where you can see a Stenna Line Ferry which operates between here and Stranraer in Scotland. Submitter Chris had this to say:
This ferry is possibly the Stena Caledonia which crosses in 3 hours 15 minutes. The newer high speed Stena Voyager (HSS) also travels this route taking 105 minutes for the trip.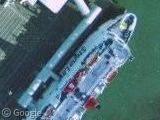 Thanks: redstar1 & Chris