Fred's Weather Map
Wednesday, 15th March 2006 by James Turnbull
Please note that some or all of the objects mentioned in this post are no longer visible on Google Earth or Google Maps.
UK readers might recall this floating weather map in Liverpool's Albert Dock, which was used for many years to present the weather for ITV's "This Morning" program.
The presenter, Fred Talbot, would run about the miniature UK informing viewers of the weather in their area and as you can see he was joined by model versions of various landmarks such as the Forth Bridges, Blackpool Tower and Tower Bridge.
For Northern Ireland's weather Fred would have to leap across the water and everyone would hope he missed and fell in, although sadly he always made the jump.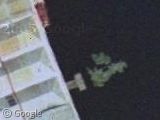 Thanks: Pete & Andy Kelly