Peace on Earth
Friday, 14th April 2006 by James Turnbull
You can all rest easy tonight; I've discovered peace on earth!
The first bit of peace is found in Watershed Park, a dense woodland near Redmond with trails for cycling, horse riding, etc. A local cyclist took this ground level photo.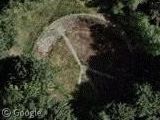 There's twice as much peace in the back yard of Yates Mill Elementary School, although the larger of the two is a bit faded.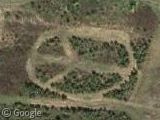 Thanks: Sl0play & Brad Tollmann