World's Largest Music Players
Thursday, 6th April 2006 by Alex Turnbull
Unfortunately we missed posting this giant iPod sighted in Australia last week – but we don't mind as it seems that most of the rest of the net was taken in by the stupidly obvious April Fool that was doing the rounds alongside the link.
However, to prove that we're always down with the kids, Google Sightseeing is proud to present… the very latest in cutting edge audio technology – The World's Largest Record Player! Built by Technics to celebrate their 1 billionth pair of 1200s sold, this giant deck is fully-functional – it plays 6,000 inch vinyl at a speed of 0.01 RPM!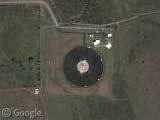 Thanks to Tggb3k, Yablo, infredible and Orion.