Takeover Week: Stone Mountain (Jerome)
Monday, 9th July 2007 by James Turnbull
Welcome to Google Sightseeing Reader Takeover Week! Every day this week, one of you has been chosen to have their very own sight posted here on GSS, while Alex and James take a well deserved holiday. Today's sight is from Jerome – so have fun, play nice, and we'll see you next week!
The name pretty much gives what it is away – Stone Mountain is the largest exposed mass of granite in the world (a mountain made of stone, haha). Formed over 300 million years ago by emerging magma from the earth's crust, Stone Mountain is composed mainly of granite which is visible from miles around.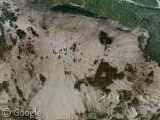 Apart from the geology aspect of it, Stone Mountain also boasts a bas-relief on the side depicting three figures of the short lived Confederate States of America – carved in 1909. Nowadays, a park exists encircling the mountain and the top of the mountain can be accessed by a 1.3 mile (about 2.1 km) hiking trail, or by taking a ride on the Skyride, an aerial tramway. Either way, the top provides a great view of the Atlanta skyline and surrounding suburbs. Last but not least, every week they hold the "world's largest" 40 minute laser show near the carving.
An interesting note is that if you look at it in Google Maps, you can zoom out quite a bit and still notice the huge rock as a small whitish speck.
Find out a lot more about this huge piece of granite at Wikipedia or visit the official site.