Horrific Multi-Vehicle Accident
Wednesday, 8th August 2007 by Alex Turnbull
This double-decker bus appears to have crashed and then toppled over, actually crushing a car underneath itself! (Look carefully at the roof of the bus and you'll see part of a car protruding.)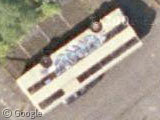 Worse still, at the same location a train has collided with several cars in some terrible freak accident, seemingly crushing one and overturning another.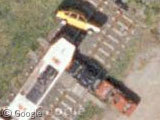 Except… that would have to be the world's shortest railway, wouldn't it? Perhaps all is not quite as it seems here after all…
Thanks to TheLedge and simon a.