Airplane Gnomes
Friday, 7th September 2007 by James Turnbull
Rather than the usual fare of flowerbeds, ponds or garden gnomes, Lloyd "Tud" Krohn decorates his garden with handmade aircraft.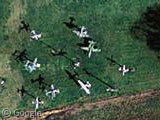 The 1/16 scale models include a V-22 Osprey, B-17 Flying Fortress, P-38 Lightning, C-130 Hercules and an Apache helicopter.
Mr Krohn (I'm afraid I can't bring myself to call him "Tud") started building these odd garden ornaments over 17 years ago but, so far, nobody has figured out exactly why…
More info from Fox41 and ground level pictures on RC Groups. Thanks to sixftjafp.