Barton Swing Aqueduct
Thursday, 31st January 2008 by Alex Turnbull
In the past we've featured some incredible feats of engineering in service of canals and their traffic, but perhaps none as elegant as the Barton Swing Aqueduct, England.
Designed by Edward Leader Williams1 and first used in 1893, the aqueduct carries the Bridgewater Canal over the Manchester Ship Canal. If a tall vessel needs to pass underneath on the MSC, the 71m-long iron trough swings through 90° to allow them clear passage.
Gates at either end of the bridge hold around 800 tonnes of water in place while it swings, and another set of gates on either bank hold back the rest of the canal.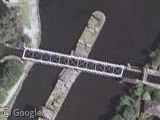 Furthermore, this is actually a double swing bridge, as the Barton Swing Bridge pivots on the same purpose-built island simultaneously. How cool is that?
More about the Barton Swing Aqueduct, the Manchester Ship Canal and Edward Leader Williams at Wikipedia.
See our other posts on European Barge Lifting, A Canal Across Germany, the Corinth Canal, the Caen Hill Flight and the Saint Lawrence Seaway for more impressive canal engineering.
---
Who was responsible for the Manchester Ship Canal itself, as well as the previously featured Anderton Boat Lift. ↩