Pool Party!
Tuesday, 19th February 2008 by Alex Turnbull
The number of cars in the drive, and the number of people in the pool at this house in Cleveland, Ohio, can mean only one thing... Pool Paaaaarty!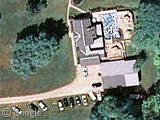 I wanted to illustrate what this pool party might look like from the ground, and I found this QuickTime VR image of a pool party in progress. Now I'm wondering what kind of geek makes a Quicktime VR image of a pool party?
Thanks to James Boorman-Padgett.