Coral Gables Venetian Pool
Friday, 16th December 2005 by Alex Turnbull
In 1924 this former coral rock quarry near Miami was transformed into Coral Gables Venetian Pool, complete with cascading waterfalls, coral rock caves and a palm-fringed island. Apparently it is the only pool in the US to be included in the National Register of Historic Places.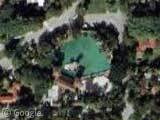 Today the pool has over one hundred thousand visitors a year, and the official site says that at one time:
orchestras serenaded pool side dancers as they swayed beneath the stars on outdoor terrazzo dance floors. Bathing beauties by the hundreds promenaded across specially constructed walkways, while visiting dignitaries passed through the circular aquarium room entry to tour the "world's most beautiful swimming hole."
Many thanks to… (drum-roll please…) Phillip Lockwood-Holmes!!