1.21 Gigawatt Fire Destroys Movie History
Monday, 2nd June 2008 by James Turnbull
Yesterday a large fire tore through the Universal Studios backlot, injuring 3 people and destroying numerous sets.
Thankfully no-one was seriously injured, but the fire did destroy a key piece of movie history: Courthouse Square.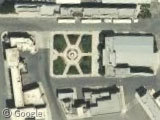 Courthouse Square has been used in numerous films and TV shows, including Gremlins, Bruce Almighty, Knight Rider and, most recognisably, Back to the Future.
As you can see from the aerial shot, the square looks just like it did in the 1985 film, including the clock tower to the East of the square. Initial reports of the fire starting when the famous clock tower was struck by lightning have been denied.
"It looked like a disaster film" said Los Angeles City Councilman Tom LaBonge, which isn't surprising as most of Universal studios looks like a disaster film; scroll South a bit and there's the wreckage of a plane crash as featured in War of the Worlds.
More on the story from the BBC or explore more Back to the Future filming locations.