House Fire
Monday, 7th July 2008 by Rob
Disaster has struck at a house in the small town of Gibson, Arkansas, as a home is engulfed in flames. There are several fire engines on the scene, but it's probably too late to save the building since the flames are clearly visible inside the walls and on the roof.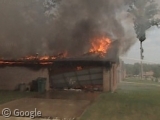 Fire-fighters are perched on top of one of the engines, and look to be spraying water at the other side of the house from where the flames are, so it could be that they are trying to save another building from catching fire - perhaps this unfinished house just behind it?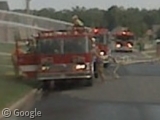 The Street View car looks to have gone to a lot of effort to capture the fire - despite being stopped in its tracks by various roadblocks, it still manages to cover most of the roads - even when a fire engine blocks its path!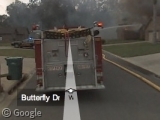 From the way the pictures were taken, it looks like the car has had to continually manoeuvre to avoid getting in the way of the emergency services, or driving on the fire hose that stretches all the way down the street.
Unfortunately I could find no reference to the fire on the web, but sincerely hope that nobody was harmed by it.
Thanks: Flashmojo (who claims he can actually be seen looking at the fire over a nearby fence!)