Ice Road Truckers
Tuesday, 8th July 2008 by Alex Turnbull
Driving across the frozen Amur River between Russian and China we can see a couple of trucks – driven by the fearless and legendary Ice Road Truckers!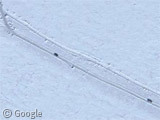 Although it seems ludicrous, building "Ice Roads" over lakes, rivers or seas, is at times preferable to carving a road on land, as you can get long continuous straights on the ice, which hilly tree-covered land just doesn't offer. However in this case it appears to be the only existing way across the river.
Driving across frozen water in a 2 tonne truck is of course slightly dangerous. Depending on the country, the ice only needs to be about 20cm thick for authorities to allow trucks onto the surface, and speeds may be limited to a painfully slow 16mph. Luckily our particular truckers don't have far to go, unlike the men who drive the 568 kilometre Tibbitt to Contwoyto Winter Road each year.
Ice road truckers were made famous by the TV show of the same name, and the green light has apparently been given to make a fictional film based on the series in 2008. I've not seen the TV show, but I hear it's much more exciting than boring footage of lonely truckers driving at 16mph across vast empty frozen lakes.
Read more about ice roads at Wikipedia.
Thanks to pooms.