Death Road
Wednesday, 23rd January 2008 by James Turnbull
Yungus Road, or "Death Road" as it is known to the locals, has often been described as the most dangerous road in the world.
Running from Bolivia's capital La Paz into a rainforest region known as the Yungas, the road has no barrier to the edge, and the two-way traffic shares a space just 12ft wide.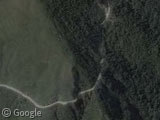 From the aerial shots, the road looks relatively safe as it casually winds through the trees. But load up the terrain layer in Google Earth, and you'll see scary hairpin bends leading around the edge of a cliff face.
In fact, it seems "Death Road" is a very suitable nickname, as it's estimated between 200 and 300 people die in this area each year!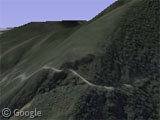 Notoriety hasn't helped the death toll here, as thrill-seeking tourists now visit the area just to drive on the road and it's even popular with mountain biking lunatics.
More information and pictures on BBC, Wikipedia and Bolivian Geographic
Thanks: nova72