The Royal Botanical Gardens at Kew
Friday, 11th July 2008 by Rob
While I don't admit to possess a particularly green thumb, I do have a penchant for anything which either looks good from the air, or lays claim to unnecessary, ambiguous World Records. Just like here at the Royal Botanic Gardens, or simply Kew Gardens, London, England.
A Royal Palace is usually a great place for a day out, but Kew's is rather lacklustre, taking the title of the Smallest Palace in Britain. Nevertheless, it was the family home of George III, and it is here that he suffered his 'madness'1, which was presumably caused by the cost of the garden's upkeep.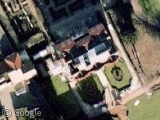 Sitting in the far corner of the gardens is the Great Pagoda which stands a pretty impressive 49 metres high. At the time it was built in 1763, it was the tallest Chinese-inspired structure in Europe. During World War 2, the towers were modified to test the way in which bombs fell, and today it affords rather splendid views over the Gardens, as these photos show.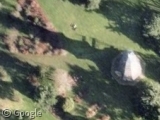 When I started writing for Google Sightseeing, I decided as a rule never to post about compost heaps that I had found. I changed my tune entirely when I discovered Kew was home to the largest compost heap in the World, complete with its own viewing deck! The majority of this vast compost heap is used on the plants at Kew, some is actually auctioned off for charity.2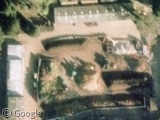 At almost 5000 square metres in area, and holding the title of Largest Victorian Glasshouse in the World, the Temperate House really is vast (twice the size of the nearby Palm House). At the centre of the Temperate House is the Chilean wine-palm, which at a heady 16 metres, towers into the record books as the World's largest Indoor Plant.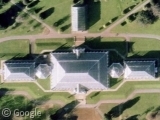 This snazzy structure is the Princess of Wales' conservatory, opened in 1987, its design is quite blatantly stolen from blueprints of Darth Vadar's Star Destroyer. Within this and the other glasshouses, Kew has over 30,000 living plants, and 7 million seed specimens.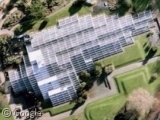 Find out more about Kew at their official website, and at Wikipedia, whilst there are loads of photos at flickr. Thanks to Lindsay Marshall, Stephen Train and Tom.