Storm King Art Center
Thursday, 10th July 2008 by Alex Turnbull
Dotting the landscape here in Mountainville, New York, is a collection of bizarre shapes and interesting shadows. This is actually a huge outdoor sculpture garden called the Storm King Art Center.
Founded in 1960 by Ralph E. Ogden as a gallery for Hudson River School painters, today the 202 hectares (500 acres) of landscaped lawns, fields and woodlands are home to hundreds of sculptures.
New York resident sculptor Mark di Suvero has several pieces here, such as Mozart's Birthday and Mother Peace (more info and pictures are available at the Storm King site).
Di Suvero was in construction as a young man, but after a serious accident started using an arc welder to create large outdoor sculptures incorporating scrap metal and structural steel - like the enormous Pyramidian (this photo at Flickr gives a good sense of scale).
Internationally renowned Polish sculptor Magdalena Abakanowicz created the seemingly accurately titled "Sarcophagi in Glass Houses" that we can see here (more info and ground-level pic).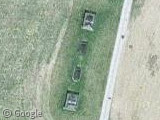 Sarcophagi in Glass Houses, 1989
Another American, David von Schlegell, is responsible for several pieces on permanent display here titled "Untitled", including this one, "Untitled" (ground level picture).
Not wanting to be left out, the UK is represented by the brilliant Andy Goldsworthy, whose 694 metre (2,278 foot) long Storm King Wall can be seen falling into the lake, and emerging from the other side to take a meandering path through the trees (more info and ground-level photo).
There are many other recognisable artworks dotted about the grounds, including Adam by Alexander Liberman and Free Ride Home by Kenneth Snelson, as well as others that I haven't been able to find any information about, like this large boat-like thing perched on a small island, or this mish-mash of what looks like huge red tubes.
The Wikipedia page on Storm King is short but to-the-point, whilst the official site would have to try very hard to be any more rambling and wordy. There's a Flickr Pool with some good images too.
Thanks to Ryan, Wayne Citrin and Adrian Likins.