Google's Street View Welcome Party
Tuesday, 5th August 2008 by James Turnbull
As the Street View car passed Google's California head offices, the Googleplex, hundreds and hundreds of Google Employees came out to form a huge welcoming committee for the passing camera car.
There's loads of things to see, as many employees have clearly prepared for the event! For example, here's a life-size yellow Street View guy: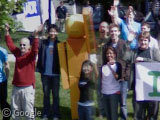 Elsewhere, in a clear nod to our very own discovery of a fight on Street View, a couple of Googlers are engaged in a slight altercation.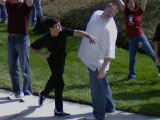 In another self-referential move, a couple of people are taking part in a tiny Tour-de-France!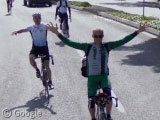 The in-jokes don't stop there either - one Googler took the opportunity to make a "Web 2.0" marriage proposal! See his website to find out if she accepted.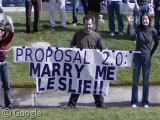 There's tons more silliness all up and down the street, as it seems the entire Googleplex came out for the event - so have a browse and share your best finds in the comments!
Thanks to GmapsMania.