I come ♥ back U
Thursday, 25th September 2008 by Alex Turnbull
It appears that an English-speaking inhabitant of the German city of Duisburg has decided to profess his love for a person or persons unknown, who was presumably due to pass this way in some sort of flying mode of transport.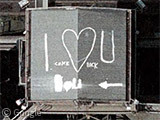 Time and time again on Google Sightseeing, we have seen that the fields of spelling, grammar and large-scale skyward-directed professions-of-love are failing to find much common ground - in this case however, the message additionally fails to have the desired impact thanks to our artist's truly appalling typographical layout.
The arrangement of words is so bad in fact, that the message reads "I come ♥ back U", and to make matters worse, is then followed by a botched attempt to write "I ♥ U", which is being pointed out by an inexplicable arrow.
If I have understood his garbled message correctly, it seems our poor Romeo is actually trying to win his Juliet back.
Awww. Not with typography like that mate!
Previously on Google Sightseeing: I'm A FOOL 4U Gina, Will You Marry Me?, Thelma, Will You Marry Me?, the acceptable-but-they-cheated World's Largest Marriage Proposal, and the equally disastrously arranged You! America Make Proud!
Thanks to Kay Ludwig.