Ski Dubai
Thursday, 23rd October 2008 by Ian Brown
Visitors to Dubai who suffer in the summer temperatures over 45°C can cool off at Ski Dubai.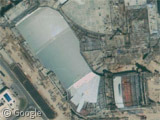 The resort offers the full winter experience, from building snowmen to taking ski lessons. There is even the 'cozy mountain lodge' where you can sit by the fireplace and enjoy some apres ski ... though of course your glass of mulled wine would have to be non-alcoholic.
This however is not the largest indoor ski slope in the world  - that honour goes to SnowWorld in Landgraaf, the Netherlands, while AlpinCenter in Bottrop, Germany claims the longest indoor run.
Still, Ski Dubai doubtless has the largest energy bill as a result of maintaining a temperature around -1°C in the desert!
More information and lots of images at the official sites of: Ski Dubai, SnowWorld and AlpinCenter, and Wikipedia has a full list of indoor ski centres.
Thanks to Roy, Jack Langdon and David Thornton.