US Presidential Election
Tuesday, 4th November 2008 by James Turnbull
Even if you've been living under a rock on the other side of the globe with your eyes and ears taped up, you'll still be aware that today America goes to the polls and, unless some sort of mass voting machine breakdown occurs, Barack Obama will very likely be voted the next president of the United States.
Although it seems this election has been in the news for the last four years, there's little mention of Obama or McCain on the images of Google Earth. However, we can find messages to the skies about the soon-to-be ex-President.
Underneath the approach to McCarran International Airport, someone has scrawled a message on the roof urging you to "Vote Bush" which, luckily, America is prevented from doing this time around.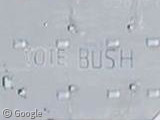 In contrast, we find a "No W" logo in Lakewood Park, Massachusetts. It's possible that this person is simply expressing their hate for the twenty-third letter of the alphabet, but the symbol is more commonly used to protest against George W Bush.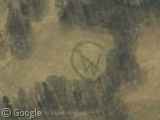 Whoever you prefer, we urge our American readers to stop messing about on the internet and go and vote.
Thanks to Brian LaPointe & SpiderX22