Bears in the City
Friday, 13th March 2009 by Ian Brown
Today we're investigating a trio of bear sightings in cities across the United States.
First we visit Denver, where a strange blue object visible from above is revealed by Street View to be a giant blue bear peering through the windows of the Colorado Convention Centre.
This 12m high steel and fibreglass sculpture titled I See What You Mean by artist Lawrence Argent was installed in 2005.  And in case you're wondering, here's what it looks like from the inside!
Another large bear adorns the exterior of a casino in Elko, NV to promote their star attraction.
The statue is a replica of White King – 3m tall and weighing 1000kg – claimed  to be the largest polar bear ever killed. The stuffed bear is on display in the casino's coffeeshop.
And finally to Detroit, and bears of a different kind – teddy bears and stuffed toys of many kinds create the 'unique' decor of this house on Mt Elliott Street.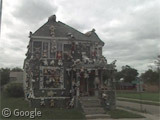 While you may wonder about the affect on local property values, it is actually part of a neighbourhood art project.
Thanks to lyrics_guru.