Wuppertal Schwebebahn
Friday, 11th December 2009 by Chris Hannigan
The city of Wuppertal, Germany is home to the oldest, and perhaps most spectacular, monorail system in the world.1 The Wuppertal Schwebebahn is a suspended railway system that carries 72,000 passengers a day above the Wupper River through downtown Wuppertal, and then over city streets directly above passenger and vehicular traffic. The route is 13.3 kilometres (8.3 miles) in length and takes about 30 minutes to travel from one end to the other.
Patrons can experience the entire length of the route by entering at the eastern terminal of Oberbarmen. During the journey, the train can reach top speeds of 60 km/h and passenger cars swing out as far as 25 degrees around the corners!2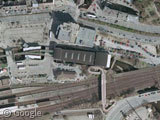 Travelling westbound, the final 3.3 kilometres of track are suspended over the city streets of Wuppertal. Even though the Schwebebahn's height is only 8 metres above the street, the only collision occurred in 2008 when a train collided with a crane truck near the Hammerstein station. The final stop on the western end of the route is the Vohwinkel station, which is also home to the system's maintenance facility.
The train's route passes over the A46 autobahn, and in a weird twist, the suspended monorail actually goes under the standard railroad near the Zoo/Stadium station.
The Schwebebahn began public operations in 1901, and passengers can experience the 100-year history by taking the trip on the Kaiserwagen train. Built in 1900, the beautifully restored Kaiserwagen offers guests a unique nostalgic experience with treats like cushioned seats, gold decorative windows, lamps, and a retro Art Nouveau ornament disc separating the first and second class compartments. The train attendants even dress in period costume and offer beverage service to make for a very enjoyable ride.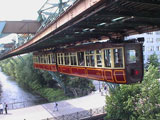 UPDATE 12/14- The Schwebebahn can be considered one of the safest public transportation systems in the world, but there have been some serious accidents along the way that deserve mentioning.
In 1999, maintenance workers left a piece of equipment on the track following an overnight work session. The first train to come along the next morning struck the item and crashed into the Wupper below. According to Wikipedia, the accident killed 5 people and injured 49.
In another incident, an elephant named Tuffi was brought aboard the Schwebebahn in 1950 as a marketing stunt for the Althoff Circus. Apparently Tuffi didn't enjoy the ride because she soon began stomping wildly throughout the cabin, eventually crashing through the side and falling into the river below. Tuffi was injured but survived. Today, the incident has become a famous tale in the history of the Schwebebahn. There's even a painting of Tuffi on a building near the spot where the elephant jumped between stations Alter Markt und Adlerbrücke.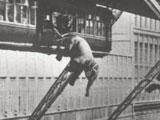 More information can be found on the Schwebebahn's website and Wikipedia.