Australia's Top Ten Giant Animals
Friday, 23rd April 2010 by Ian Brown
We've visited many of the world's largest objects here on Google Sightseeing, but if there is one country that – more than any other – has a fondness for large roadside attractions, it is Australia. So we present Australia's Top Ten Giant Animals1.
10.  The Big Crab, Miriam Vale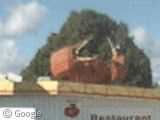 The first of a several sea-food entries on our list, The Big Crab adorns the roof of a restaurant and gas station. The Street View car was impressed enough to stop for gas, though not enough to choose a pump that gives us a better view.
9. The Big Boxing Crocodile, Humpty Doo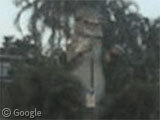 Perhaps intended to distract visitors from the not-quite-nursery-rhyme name of this town, this pugilistic predator is not too far from an even larger crocodile – the Gagudju hotel we visited back in 2006.
8. The Big Lobster, Kingston
This colossal crustacean stands over 18m tall – so big it's clearly visible even on the satellite image – and represents the product for which this area is best known.
7. The Big Murray Cod, Swan Hill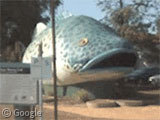 This aging movie star is 11m long. Rivers in the region once teemed with cod but populations have suffered as a result of drought and water diversion.
6. The Big Galah, Kimba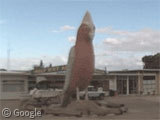 Found only in Australia, the Galah is a rose-coloured cockatoo which apparently can purr like a cat when adopted as a pet. Galah is also an Aussie slang term for idiot, which could lead to some confusion if you're unsure which one the statue is intended to be.
5. The Giant Earthworm, Bass
The superlative Big isn't enough for this immense invertebrate, so it has to be Giant. Perhaps because the thought of a 3m long blue worm isn't enough to creep people out, this wildlife museum has created a massive replica of a Gippsland Giant Earthworm, through which visitors can explore the workings of worm innards.
4. The Big Penguin, Penguin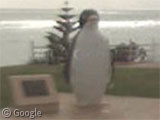 Just in case this Tasmanian community's name doesn't make it clear what the main local attraction is, they have constructed a prodigious penguin near the beach.  They've also decorated all the garbage cans. And the name of virtually every business in town includes the word 'Penguin'. I think we get it. Just be thankful the area isn't known for 3m long blue earthworms.
3. The Big Merino, Goulburn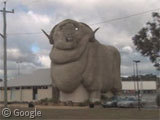 Another testament to a region's main export, this remarkable ruminant2 is 15m tall and 21m long. It weighs in at almost 100 tonnes and locals have nicknamed it 'Rambo'.
2. The Big Tasmanian Devil, Mole Creek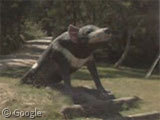 We end with a couple of national icons. First, the Tasmanian Devil, shown here guarding the entrance to Trowunna Wildlife Park.
1. The Giant Koala, Dadswells Bridge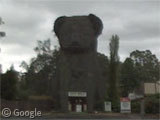 Finally, a magnificently massive marsupial – the 14m high bronze and fibreglass Giant Koala.  It apparently survived a recent wildfire, and there had been discussion of renaming it in honour of a koala which became famous during last year's fires.
There are many other capacious critters across Australia. Let us know where your favourite ones are!
Thanks to Rick Wallach and Big Hans.