Atlas Film Studios
Friday, 14th May 2010 by Alex Turnbull
If you need to shoot a movie in the desert, there's somewhere that should be top of your list: Atlas Film Studios in Morocco. Over the years it has played a part in Alexander the Great, Gladiator and Black Hawk Down, amongst many others.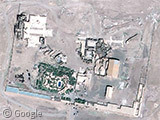 The studios lie on the outskirts of the city of Ouarzazate, which itself has featured in titles such as Lawrence of Arabia, Star Wars and The Living Daylights, but doesn't stand out particularly from satellite.
Ouarzazate was first used as a movie location by acclaimed British director David Lean, for his 1962 epic Lawrence of Arabia. Lean recognised that the city's exotic scenery filled with "authentic-looking" locals made the perfect location for any movie with an ancient, desert-based storyline.
The Atlas Film Studios weren't built until 1983, and today there are a wealth of props on display to tourists – many of which are clearly visible even from our unique vantage point.
The first thing visitors encounter is an incredibly fake-looking jet-plane, which was in Jewel of the Nile (released in 1985, if you remember that long ago).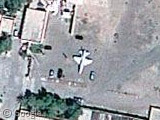 All over the studio are disused sets from old movies, like this attempt to recreate the Precinct of Mut from Egypt's Karnak Temple Complex (apparently this set was used in the 1999 TV movie Cleopatra – has anyone seen it?). These rows of ram-headed sphinxes are all made from fibreglass, unlike the originals.

The Precinct of Mut (one of these is fake)
From up here we can also clearly see the bamboo scaffolding that supports the temple façade (ground-level pic). Morocco doubles for Egypt a lot it seems, as the Egyptians are rather protective of their heritage.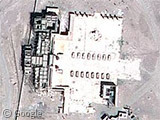 Further out into the desert we find the more recent Kingdom of Heaven set, where we can see the remains of huge siege machines dotted in and around a totally fake castle.
There's a fake boat skeleton here in the desert too, but I'm not sure which movie it featured in. Does anyone recognise it?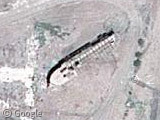 If you're in the area and want to see something a little more realistic, to the north-west you can visit the Ksar of Ait-Ben-Haddou, an ancient village featuring a stunning collection of defensive mud kasbahs built into the side of a steep hill. The kasbahs remain occupied to this day, and they have been designated a World Heritage Site.
Alternatively, if you haven't the time to take a trip to Morocco, you'll be able to see the Ksar of Ait-Ben-Haddou in the upcoming Prince of Persia movie.
Thanks to Chris Davey.