Terry Fox
Friday, 16th July 2010 by Ian Brown
Terry Fox is a hero to many Canadians for his Marathon of Hope - an endeavour for which he is commemorated with a statue directly across from Parliament Hill in Ottawa, the nation's capital1.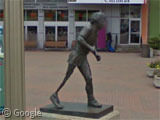 Born in 1958 in in Winnipeg, at age 8 Fox moved with his family to British Colombia where he became an avid basketball player. In 1977 constant pain in his right leg was diagnosed as osteosarcoma, an aggressive form of bone cancer. His leg had to be amputated above the knee and Fox underwent an intensive program of chemotherapy.
He retained a positive attitude throughout his treatment, recovery and adaptation to the use of an artificial limb, particularly when he learned that medical advances boosted his chance of survival to 50%, whereas a couple of years earlier it would only have been 15%. He pledged to raise money for cancer research in an effort to help others with various forms of the disease.
Despite a pronounced limp and pain from the replacement leg, Fox trained for and completed a marathon in Prince George, BC in August 1979. Inspired by this he developed the plan for the Marathon of Hope - running across Canada 42 km every day (the standard marathon distance.)
He started on April 12th 1980 in St John's, Newfoundland, with a low-key ceremony in which he dipped his artificial leg in the Atlantic ocean, intending to repeat the act when he reached the Pacific thousands of kilometres later. There is a small monument near where he did this.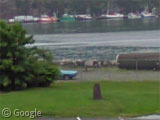 Many people feel this monument deserves more attention - it is not promoted by St John's tourism authorities, it is hard to find and the area around it is often unkempt.
Terry Fox started the Marathon of Hope with the goal of raising $1million for cancer research. As the journey progressed across the country the public attention - and donations - grew significantly so he upped the goal to be $1 for each of the 24 million population of the country at that time.
However, after 143 days and over 5,300 km he was forced to abandon his effort when increasing pain resulted in a diagnosis that the cancer had spread to his lungs. There is a large monument and scenic lookout at the point on the Trans Canada Highway outside Thunder Bay where he had to stop.
Chemotherapy was unable to halt the spread of the disease and Terry Fox passed away nine months later, prior to which he became the youngest person to be named a Companion of the Order of Canada.
Fundraising efforts in his name continue, with annual Terry Fox runs taking place in thousands of communities across the country, and around the world. To date approximately $500 million has been raised and donated to cancer research programs.
There are roads, schools and other buildings across the country that bear his name, and he was commemorated on a $1 coin in  2005. The province of British Columbia named a mountain and provincial park in his honour.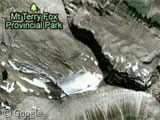 The westernmost monument is a statue in Beacon Hill park in Victoria, the 'Mile zero' location where the Marathon of Hope would have ended if he had been able to continue. It features a quote from Terry: "Dreams are made possible if you try."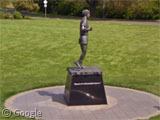 A much more detailed history can be found at Wikipedia or the CBC which has many articles and videos, while the Terry Fox Foundation website has full details about all fundraising efforts.
---
As we've seen often before, Google's face-blurring privacy technology can't differentiate between real people and statues! ↩︎