The Gum Wall
Friday, 5th November 2010 by Alex Turnbull
In Post Alley, Seattle, there is a brick wall that has become one of the most bizarre tourist destinations we've ever encountered - and here on Google Sightseeing we've encountered some really bizarre ones.
Post Alley happens to be where people queue to get into the Market Theatre and since around 1993 they've been sticking their used chewing gum to the wall of the alley. The proprietors of the theatre cleaned the wall a couple of times in the mid-1990s, but eventually they had to give up, and instead decided it should be a tourist attraction, so The Gum Wall was born.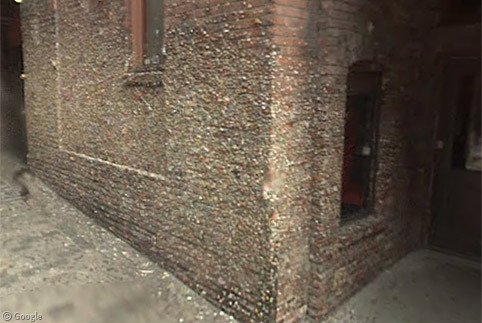 Today there are hundreds of thousands of pieces of brightly coloured gum stuck to the walls of Post Alley, some stuck up to 20 feet high. People visit the wall specifically to add their own pieces of gum, and have taken to forming mini gummy-artworks, or writing their initials. Here we see that the Street View car actually captured a couple of women taking turns chewing and sticking the gum.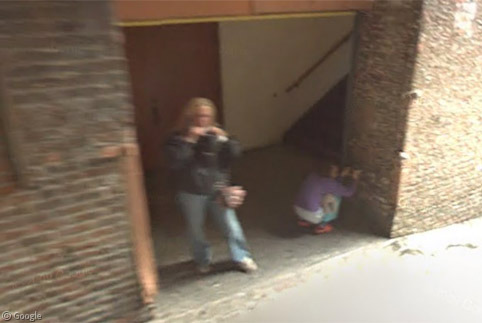 Perhaps even more astonishing than the fact that thousands of bits of old, chewed, synthetic rubber stuck to a wall have become an actual tourist destination, is that there's another one in San Luis Obispo, California: Bubblegum Alley.
In fact, Bubblegum Alley has been around a lot longer - since at least the 1970s, and possibly even earlier. Due to Bubblegum Alley's age, today the gum almost completely covers the walls on both sides of the 21 metre-long alley.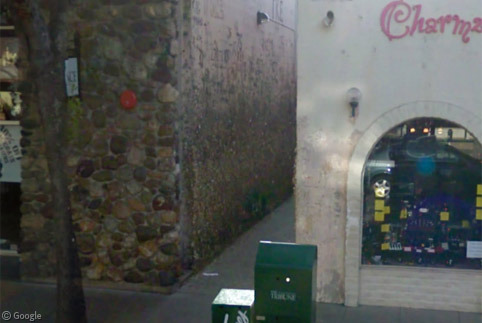 Google Street View however won't be visiting Bubblegum Alley in any more detail, at least not until their recording equipment slims down a bit.
All of this oddity makes us wonder, could there be an even more disgusting tourist destination elsewhere in the world?
More on The Gum Wall and Bubblegum Alley at Wikipedia.